Bali honors bomb dead, 10 years on
SOMBER EVENT: Under sunny skies, hundreds of survivors of the bomb blasts and mourners gathered to pay tribute to their fallen family members and friends
Hundreds of survivors and relatives of the dead yesterday paid tearful tributes to the 202 people killed in the Bali bombings 10 years ago, when Islamist extremists unleashed terror on partying tourists.
On Oct. 12, 2002, suicide bombers attacked two packed nightspots on the holiday island, pitching Indonesia into a battle with Islamic militancy and dealing a morale-sapping blow to Australia, which lost 88 people.
Taiwanese Eve Kuo (郭惠敏), 24, and four members of a Taipei-based rugby club — Australian James Hardman, 28; Englishman Daniel Braden, 28; and Godfrey Fitz, 39, and Craig Harty, 35, both of South Africa — also died in the blasts.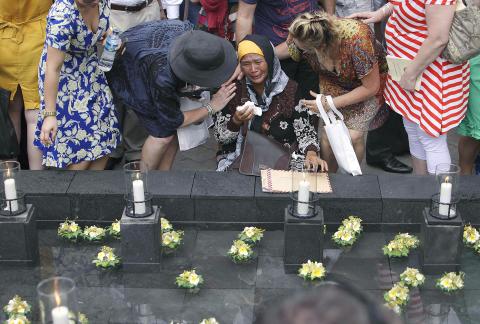 A woman is comforted as people attend a commemoration service on the 10th anniversary yesterday of the Bali bombing in Jimbaran, Bali.
Photo: Reuters
Mourners gathered in Bali shaded themselves under Australian flags as they listened solemnly to a mournful roll call of the dead, some crying or leaning on loved ones' shoulders as they observed a minute's silence.
Families of the Australian victims, many of whom were youthful holidaymakers and members of touring sports teams, made the journey to Bali seeking closure to a painful decade.
"I lost my two daughters in the Bali bombing," said Danny Hanley, father of victims Renae and Simone — the youngest died from her injuries several weeks later in a Perth hospital to become the 88th Australian to perish.
"As we go forward into this new decade year, let us go out with the patient power of knowledge that our God will go with us," he added.
The strike by the al-Qaeda-linked group Jemaah Islamiyah, which also left scores of people with horrific burn wounds, came one year after the Sept. 11, 2001, attacks on the US.
The ceremony was held under the watch of 2,000 police and military personnel, including snipers, after Indonesia issued its top alert due to a "credible" terror threat in Bali. However, authorities on Thursday tried to ease fears of an attack.
Under sunny skies, the event in a large cultural park heard moving tributes from families of the victims, who died as the bombers devastated the Sari Club and Paddy's Bar on Bali's party strip in Kuta.
Speaking at the event, Australian Prime Minister Julia Gillard recognized the terrible legacy of the attacks, saying "wounds and scars abound, healed and unhealed, but nothing can replace the empty seat at your table."
However, she also praised the resilience of her people and said Indonesia and Australia, which are sometimes edgy neighbors, "drew closer" than ever before.
Indonesia, which has the world's biggest Muslim population, won praise for its law-enforcement actions after the bombings and was also lauded for its response after subsequent attacks in 2005 in which 20 people were killed on the island.
In the 10 years since the 2002 attacks, all of the leading Bali perpetrators have either been executed, killed by police in raids or jailed.
Delivering remarks to the thousand-strong crowd of mourners, Indonesian Foreign Minister Marty Natalegawa said his country remained committed to fighting extremism so that "humanity prevails over hatred."
Thirty-eight of those killed were from Indonesia, which was stunned by the atrocity on Bali, whose scenic resorts, five-star hotels and backpacker hostels are a vital cog of the country's tourism engine.
"I feel sensitive and am easily sad. It's a feeling that always comes when I'm alone, that's when I shed my tears," said Ni Luh Erniati, whose husband worked at the Sari Club and was killed.
Comments will be moderated. Keep comments relevant to the article. Remarks containing abusive and obscene language, personal attacks of any kind or promotion will be removed and the user banned. Final decision will be at the discretion of the Taipei Times.