FEATURE: Belize, a paradise for tourists ... and drug traffickers
Belize, a tropical tourist paradise, is developing a dark side and turning into a transit point for the trafficking of drugs bound for the US, authorities there have said.
This tiny Central American state, while not a producer of narcotics, has a lot of coastline and not a lot of authorities — and is strategically situated between Mexico and Guatemala — making it susceptible to smugglers, officials say.
"We are facing a trafficking problem," said David Henderson, the country's police chief.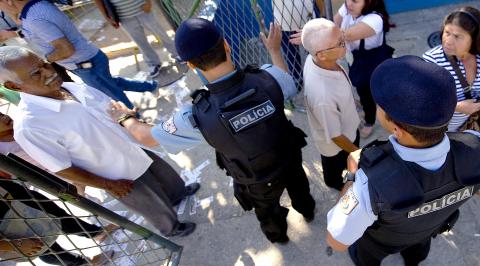 Military police control the entrance to a polling station at a school in Rio de Janeiro's Rocinha slum community on Sunday during nationwide municipal elections.
Photo: AFP
"It's a challenge," he said, adding that Belize was working with its neighbors to keep drug cartels from putting down roots in this country, formerly known as British Honduras when under colonial rule.
Despite the situation, the police force totals just a thousand — making it tough to adequately patrol the country's entire territory.
"It's very difficult to keep an eye on everything," police spokesman Raphael Martinez said.
The 300km coastline and the 150km shared border with Mexico, along the Hondo River, are particularly vulnerable to the trafficking of drugs, weapons, illegal immigrants and contraband. In mid-September, authorities from Mexico and Belize met to explore the possibility of boosting checks along their common border in an effort to crack down on trafficking.
"Belize is a transit point for cocaine shipments," Commander Anastacio Garcia, who heads the military in the Mexican state of Quintana Roo that borders onto Belize, recently told reporters.
The commander of the Mexican army's naval zone number 5, Conrado Aparicio, confirmed drug trafficking over land and by sea had increased in Quintana Roo.
He also highlighted trafficking along the border between Belize and Guatemala, done in such a way, he said, that only small quantities of narcotics are smuggled at a time.
"The cartels have local contacts, they pay in drugs and weapons," said a local agent who requested anonymity. "Some supply fuel to planes or speedboats and serve as guides so the drugs can be moved on to Mexico."
Last year, Belize made its debut on a US list of "major drug transit or major illicit drug producing countries."
According to the US Department of State, cartels expedite narcotics to the US via Mexico using tiny Belize as a stopover point for drugs coming from Colombia, Peru and Ecuador. The amount of cocaine passing through Belize has been estimated at 10 tonnes per year.
In its 2012 International Narcotics Control Strategy Report, the State Department said Belize's remote jungles "provided a hospitable environment for growing cannabis" and that drug trafficking and related crimes increasingly threatened the state's stability.
"Without action and redress, Belize's security environment will continue to deteriorate," the report said, urging the country, among other things, to beef up its border security.
By placing a greater emphasis on institution and capacity building, Belize would be "more capable of successfully confronting illegal drug trafficking," it added.
In April, a plane carrying cocaine crashed in the jungle close to Corozal, not far from the Mexican border. Local media reports said those on board were able to escape with their load before police arrived, illustrating the weakness of law enforcement.
The sluggish global economy has also taken a toll on Belize, where 25 percent of the economy is linked to tourism.
Comments will be moderated. Keep comments relevant to the article. Remarks containing abusive and obscene language, personal attacks of any kind or promotion will be removed and the user banned. Final decision will be at the discretion of the Taipei Times.