Archeologists search for Richard III under car park
British archeologists were on Friday hoping to find the lost remains of King Richard III — by digging up a car park believed to be his burial site.
Historians believe the medieval king, who ruled England from 1483 and is today best known as the villain of a William Shakespeare play, was buried at a church in Leicester, England, after his death during a battle in 1485.
However, the Franciscan friary, known as Greyfriars, was demolished in the 16th century and its exact location was lost.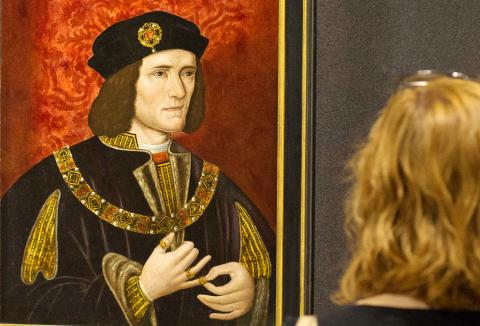 A painting of King Richard III by an unknown artist from the 16th century is seen on Friday at the National Portrait Gallery in London, England.
Photo: Reuters
Researchers at the University of Leicester now think they have found the site, situated somewhere beneath a car park used by the city's council offices.
Archeologists were surveying the car park on Friday using ground-penetrating radar in what they say is the first ever archeological search for the lost grave of an anointed King of England.
It has been rumored that the remains of Richard III — the last monarch of the House of Plantagenet — were thrown into the River Soar after monasteries were dissolved under Henry VIII.
However, archeologists hoped to dispel the myths when they started digging two trenches across the car park yesterday, even if the chances of finding his remains are slim.
Richard Buckley, co-director of Leicester University's archeology service, said: "The big question for us is determining the whereabouts of the church on the site and also where in the church the body was buried. Although in many ways finding the remains of the king is a long shot, it is a challenge we shall undertake enthusiastically. There is certainly potential for the discovery of burials within the area, based on previous discoveries and the postulated position of the church."
If any remains are found, they will undergo DNA analysis at the university to confirm that they are those of Richard III.
Comments will be moderated. Keep comments relevant to the article. Remarks containing abusive and obscene language, personal attacks of any kind or promotion will be removed and the user banned. Final decision will be at the discretion of the Taipei Times.