Hungary under pressure to arrest suspected Nazi
Pressure was mounting on Hungary over an aged suspected Nazi war criminal found living there, as prosecutors said investigating him was difficult because the crimes happened so long ago and in another country.
Several dozen young demonstrators gathered outside the apartment of a man believed to be Laszlo Csatary, in an upmarket district of Budapest late on Monday, calling for his arrest in a protest organized by the European Union of Jewish Students.
"It's our last chance to seek justice for the victims," it said in a message posted on its Web site.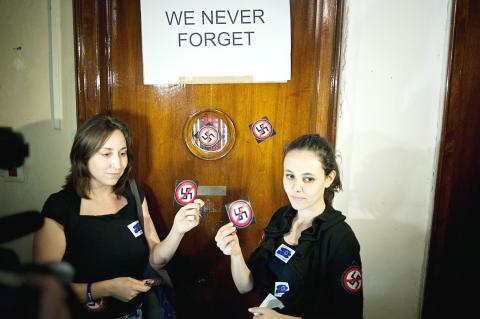 Members of the European Union of Jewish Students show anti-Nazi stickers in front of the assumed apartment of alleged Hungarian war criminal Laszlo Csatary in Budapest, Hungary, on Monday.
Photo: EPA
Some protesters carried placards denouncing Csatary's crimes, while others stuck swastikas on the entrance of the building where he has his two-room apartment.
A probe into Csatary, 97, began in September last year after the Nazi-hunting Simon Wiesenthal Center, which ranks him No. 1 on its wanted list, sent them information, the public prosecutor's office said.
The investigation covered events in 1944 in Kosice, which at that time was in Hungary, but is now in Slovakia.
The Wiesenthal Center says that as a senior policeman, Csatary helped organize the deportation of about 15,700 Jews to the Auschwitz death camp.
The investigation "therefore has to explore an event remote in both time and place," with "significant part" of the probe dedicated to finding possible witnesses, some of whom may live abroad, Budapest prosecutors said.
"It took place 68 years ago in an area that now falls under the jurisdiction of another country — which also with regard to the related international conventions raises several investigative and legal problems," a statement said.
"Finding the answers to the aforementioned questions is a precondition to clarifying the facts and determining further investigative actions," it added.
In 1948, a Czechoslovakian court condemned Csatary to death in absentia.
However, he had made it to Canada, where he worked as an art dealer in Montreal and Toronto until he was stripped of his citizenship and was forced to flee in 1997.
He ended up in Budapest where he lived undisturbed until the Wiesenthal Center alerted Hungarian authorities last year. British tabloid the Sun in a report on the weekend tracked down the old man and confronted him.
"No, no. Go away," the paper quoted him as saying at the door to his apartment.
Efraim Zuroff, the Wiesenthal Center's chief Nazi-hunter, handed over more evidence to Hungarian prosecutors last week. It highlighted Csatary's "key role" in the 1941 deportation of about 300 Jews from Kosice to Ukraine, most of whom were murdered.
Comments will be moderated. Keep comments relevant to the article. Remarks containing abusive and obscene language, personal attacks of any kind or promotion will be removed and the user banned. Final decision will be at the discretion of the Taipei Times.