India must hike fuel prices, PM says
India must hike fuel prices to offset spiraling oil import bills, Prime Minister Manmohan Singh said yesterday, after refiners threatened to raise gasoline prices to curb growing losses.
"We need to rationalize prices and at the same time ensure that the poor and needy are shielded from the effects of such a rationalization," Singh said in a speech at the opening of a refinery in the northern state of Punjab.
"With imports accounting for 80 percent of our crude supplies, the spiraling prices of crude in the international market have put a severe strain on our import bill," he added, without offering details on the hike.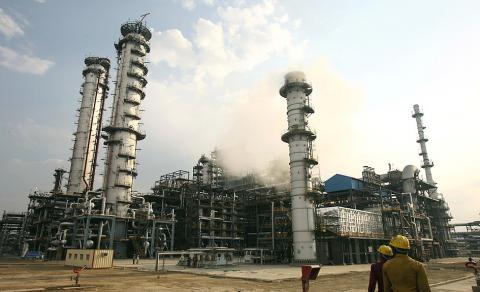 Workers walk inside the complex of the Guru Gobind Singh oil refinery near Bhatinda, Punjab, India, on Friday. The refinery is a joint venture between Mittal Energy and India's state-run Hindustan Petroleum Corp and was due to be inaugurated by Indian Prime Minister Manmohan Singh yesterday.
Photo: Reuters
In the speech, posted on his Web site, he said India needs to conserve energy and there is "no room for inefficient and wasteful usage of fuel" in the country, where blackouts are frequent.
India's Congress-led government in June 2010 deregulated petrol prices in a reform aimed at reducing the massive subsidies it pays to state-run fuel refiners which rely on imported energy.
Refiners have not raised gasoline prices since December last year, but say they must unless the cash-strapped government offsets their costs.
A sharp fall in the value of the rupee against the US dollar has exacerbated the companies' losses.
When the government freed up prices for gasoline, seen as a fuel mainly used by middle-class Indians, it kept control of cooking gas and kerosene prices to protect the poor — Congress' key supporters — against price shocks.
It also kept diesel fuel at below-market prices.
Singh's warning that fuel prices need to rise comes as the government battles stubborn inflation, running at nearly 7 percent, and a slew of corruption scandals that have badly undermined its popularity.
The high cost of imported fuel is partly blamed for the ballooning of India's current account deficit to its widest level in eight years.
Comments will be moderated. Keep comments relevant to the article. Remarks containing abusive and obscene language, personal attacks of any kind or promotion will be removed and the user banned. Final decision will be at the discretion of the Taipei Times.