FEATURE: Tibetan quake survivors resist Beijing land grab
For two years after a cataclysmic earthquake struck a remote part of China's northwestern Qinghai Province, Baobao and 29 other homeless ethnic Tibetan residents occupied the area outside several government buildings to denounce a land grab.
However, no officials in Gyegu — known in Chinese as Yushu — would listen to their pleas, said Baobao, 41, a burly Tibetan odd-job laborer, who goes by only one name.
Government officials, he said, were threatening to forcibly relocate about 600 people — mostly Tibetans — from what was prime real estate in order to rebuild Gyegu as what officials billed as an "ecological tourism center."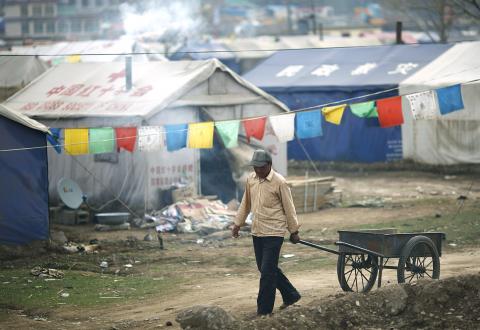 An ethnic Tibetan man pulls a wheelbarrow at a makeshift camp for people affected by the 2010 earthquake in Yushu in China's Qinghai Province on April 23.
Photo: Reuters
The move has triggered resentment as two of China's most volatile social issues — land grabs and perceived mistreatment of ethnic minorities — combine to raise tensions and threaten social stability in the region.
Just down the street, officials' homes have been spared from the land seizure, Baobao said.
"What we don't understand is why the officials' homes can be left alone, but the ordinary people's homes have to be snatched away," he told reporters in the tent he set up next to his home that is still standing. "There must be two kinds of policies: one for officials and another for ordinary people."
Land disputes are common across China, but the issue takes on new ramifications in areas dominated by ethnic Tibetans.
Tibetans make up one of the most discontented minorities, resentful of the Chinese Communist Party and the majority Han Chinese. Thirty-four Tibetans have set themselves on fire to denounce Chinese rule since March last year.
While most Tibetans live in what China calls the Tibet Autonomous Region, large communities are scattered across the neighboring provinces of Qinghai, Sichuan, Gansu and Yunnan, in what is often termed "historic Tibet."
There have been no self-immolations or violent unrest in Gyegu, but many Tibetans said they felt deprived of economic opportunities and hope.
The magnitude 6.9 earthquake on April 14, 2010, killed nearly 3,000 people, devastated Gyegu and forced about 80 percent of its residents to seek shelter in squalid camps. Thousands live in tents lacking running water and reliable electricity, pitched alongside damaged houses or in an open area previously used to race horses.
While many government structures were rebuilt, residential areas were laid to waste and many residents live amid rubble alongside a canal that stinks of human excrement and garbage.
"I told the county secretary: 'You're all robbers. You're looting a burning house,'" said Baobao, a former soldier with the People's Liberation Army.
Though Tibetan residents say they have secured some financial help from the government, many are critical of the pace and the policies of reconstruction.
Tibetans also say the government has barred locals from rebuilding. Most of the construction of schools, hospitals and buildings owned by Chinese companies are done by Han Chinese workers — mostly migrants from Sichuan.
Repeated calls to officials seeking comment went unanswered.
After the quake, the authorities told Amdo, a former nomad, that the 2 hectares of grassland he had owned would be taken by the government. They gave no reason.
Officials had first promised Amdo a free house and money in 1995 in exchange for him giving up his herd and relocating to the nearest town. He moved, but got nothing in return.
"I petitioned the government to solve my housing problem, but there was no effect," Amdo said.
Comments will be moderated. Keep comments relevant to the article. Remarks containing abusive and obscene language, personal attacks of any kind or promotion will be removed and the user banned. Final decision will be at the discretion of the Taipei Times.