FEATURE: Tattooist gives nipples, new life, to US cancer survivors
Few tattoo artists tell their clients they could win a wet T-shirt contest. Then again, few tattoo artists are quite like Vincent "Vinnie" Myers.
In his shop in a modest strip mall in Finksburg, a half-hour drive from Baltimore, Myers specializes in tattooing nipples and areolas onto women who have undergone breast cancer surgery.
Using precisely mixed pigments, he creates a perfect three dimensional illusion of the real thing — and in doing so, enables women who have undergone mastectomies to feel fully like women once again.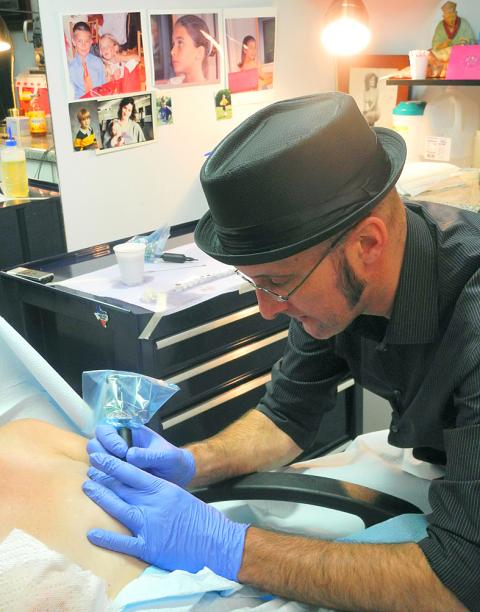 In his shop in Finksburg, Maryland, Vincent Myers prepares to tattoo a nipple on the breast of a woman who has had a mastectomy on March 21.
Photo: AFP
"It's far more rewarding than anything else I have ever done," said Myers, 49, who has dedicated the last decade of his 28 years as a tattoo artist concentrating on post-op cosmetic tattoos.
He has treated about 3,000 breast cancer survivors so far, including many referred to him by surgeons at Baltimore's prestigious Johns Hopkins medical center and other hospitals around the US.
"When it's completed and they see the final results, most women feel very emotional because they realize: 'The thing is over, I'm whole again,'" Myers said.
Myers, a Baltimore native, discovered tattooing when he was a US army medic in South Korea in the 1980s. In 2001, a friend asked him if he might tattoo some of his patients who had undergone breast reconstruction.
Typical of the women who have gone under the needle at Little Vinnies Tattoos is Susan, 58, an elegant retiree with a wish "to look as normal as possible."
"I'm doing this for me. It makes you feel prettier," she said as Myers pulled on a pair of blue latex gloves and prepared to get to work.
"Any complications? Any allergies?" the tattooist asked before carefully mixing pigments in tiny pots and joking that Susan "might win" a wet T-shirt contest once the tattoo is done.
"We're going to go with, not peach, but more like taupe, a little bit more blue," he said, before smearing a bit of pigment onto Susan's fair skin to determine if he had mixed the exact color for her complexion.
"The perfect reconstructed breast doesn't look like a breast without a nipple," said Myers, whose fee ranges from US$350 to US$1,000 depending on the complexity of the task at hand.
"You get out of the shower in the morning, you look out at yourself in the mirror, and you have no nipples — there's a huge mental impact," he said. "It's critical that the visual appearance is as close to normal as possible."
Hospitals may also offer post-mastectomy tattoos, but Myers said they are typically carried out by nurses with no more than "a couple of days" training.
On average, it takes Myers two hours to complete his work, during which he will determine the color and size of the areolas of each patient.
"There will be some shade of color on the areola itself and a darker shade on the nipples because that is normally darker," he said.
"Then you do a kind of gray shadow on the bottom side to highlight the top side so as to give it some depth ... using trompe l'oeil to make it look like it's three dimensional."
When he is not in Finksburg, Myers is often on the road, treating women in New York, Philadelphia, Charleston in South Carolina and the Saint Charles surgical hospital in New Orleans.
Myers reckoned that only a handful of his fellow tattoo artists do what he does, and in order to meet a growing demand he has already trained two others in the secrets of his unique craft.
About 200,000 cases of breast cancer are detected in the US every year. Half of them require breast reconstruction, even if surgeons using the latest techniques try to retain as much of the nipple area as possible.
It helps, Myers said, that his tattoo shop is just that — a tattoo shop, not a medical clinic.
Patients feel more relaxed "and you can have a little more fun here than you can at the hospital."
Comments will be moderated. Keep comments relevant to the article. Remarks containing abusive and obscene language, personal attacks of any kind or promotion will be removed and the user banned. Final decision will be at the discretion of the Taipei Times.