Anti-Islam march in Aarhus greeted by counter-rally
More than 80 people were arrested on Saturday as protesters hurling rocks and bottles tried to interrupt an anti-Islamic demonstration by far-right groups from across northern Europe, Danish police said.
There were numerous brief scuffles throughout the day as police tried to separate about 2,500 counter-demonstrators from a few hundred people attending the anti-Islamic rally in Aarhus, Denmark's second-largest city. One police officer received minor injuries after being hit by a bottle, police spokesman Georg Husted said.
Police said about 200 to 300 people from Denmark, Britain, Germany, Sweden and Poland took part in what was billed as a "European counter-jihad meeting" to protest what they called the Islamization of Europe. They were met by a 10-time larger counter-demonstration by left-wing groups under the banner "Aarhus for Diversity."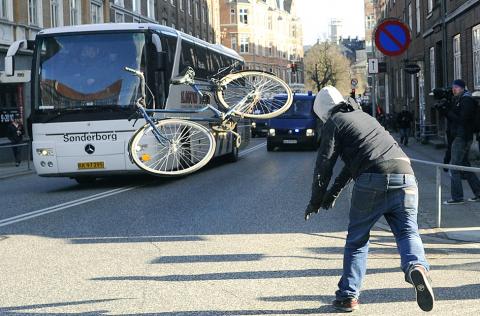 A counter-demonstratoer throws a bicycle at a bus full of anti-Islam protesters as they leave their demonstration in Aarhus, Denmark, on Saturday.
Photo: Reuters
The anti-Islamic rally started with a moment of silence for the seven people killed by an al-Qaeda-inspired gunman in France.
Among the speakers was Tommy Robinson, the head of the English Defence League, a far-right group that has staged rowdy protests in Britain and has inspired smaller offshoots in a number of European countries.
Both demonstrations were peaceful until a group of black-clad, mask-wearing youths from the counter-demonstration tried to break through police lines, but officers in riot gear held them back.
After the rally finished, protesters hurled rocks and bottles at a bus carrying the far-right sympathizers as police vans escorted it out of the city center.
The defense leagues and other counter-jihadist groups that have sprung up in Europe in recent years distance themselves from neo-Nazis and say they do not accept racism or anti-Semitism. Opponents say they are just a new manifestation of xenophobia in Europe, targeting Muslims instead of Jews.
Anders Behring Breivik, the Norwegian gunman who confessed to slaughtering 77 people in July last year, cited the English Defence League and other counter-jihadist groups in the anti-Muslim manifesto he released before the killing spree. Those groups have condemned his actions and dismissed him as a lunatic.
Comments will be moderated. Keep comments relevant to the article. Remarks containing abusive and obscene language, personal attacks of any kind or promotion will be removed and the user banned. Final decision will be at the discretion of the Taipei Times.