Israeli, Gaza militants back truce
MEDIATION: A source close to the talks said the Islamic Jihad and Popular Resistance Committees were committed to the truce, which comes after four days of attacks
An Egyptian-brokered truce between Israel and militant groups in the Gaza Strip began to take hold yesterday after four days of violence in which 25 Palestinians were killed and 200 rockets were fired at Israel.
The number of Palestinian rocket attacks dropped steeply after the ceasefire went into effect overnight. The Israeli military said three rockets had hit, causing no casualties, and that there had been no Israeli air strikes in the Gaza Strip.
Previous ceasefire deals after earlier rounds of fighting have often got off to a slow start, with guns falling silent within a day or two.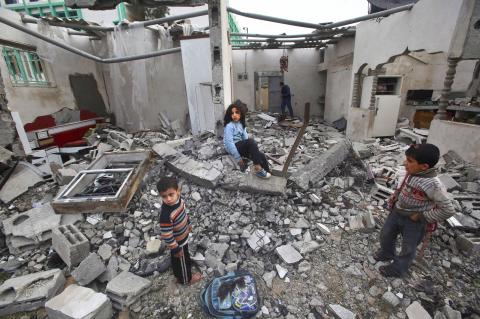 Palestinian children stand in the rubble of a destroyed building following an Israeli air strike to the east of Jabaliya refugee camp in the Gaza Strip on Tuesday.
Photo: EPA
A senior Egyptian security official in Cairo said by telephone that both sides had "agreed to end the current operations," with Israel agreeing to "stop assassinations," and an overall deal "to begin a comprehensive and mutual [period of] calm."
The truce agreement followed appeals from world powers — the US, the UN, France, the EU and the Arab League — for both sides to exercise restraint.
A Palestinian official close to the talks said "the factions are committed," alluding to the Islamic Jihad and Popular Resistance Committees, which were most active in the fighting, but that these groups were waiting to see how Israel would respond.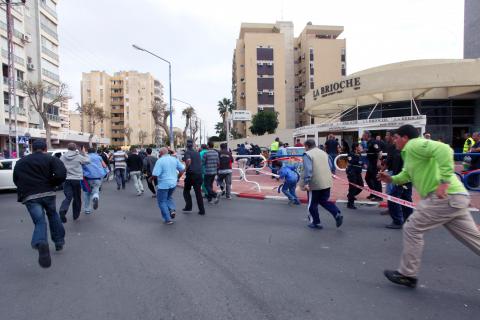 Israelis run for shelters as a siren sounds in the center of the southern town of Ashdod on Tuesday, where a Grad rocket, fired by Palestinian militants from inside the Gaza Strip, had exploded about a half hour earlier.
Photo: EPA
Gaza's Hamas Islamist leadership has kept out of the fighting and seemed eager to avoid a larger conflict with Israel.
Israeli Civil Defense Minister Matan Vilnai said on Israel Radio that "unless there are last minute developments ... this round is now behind us."
Amos Gilad, a senior Israeli defense official, said Israel would feel free to take "pre-emptive action" if Israeli lives were in danger — a reference to future strikes against Palestinian militants believed to be planning attacks.
However, he told Army Radio, if "there is quiet on their part, there will be quiet on our part."
The worst flare-up of violence along the restive frontier in months began on Friday, after Israel killed a senior militant it accused of plotting to attack Israel from Egyptian territory. Israel said Gaza militants had fired about 200 rockets at its southern towns and cities from Gaza since then.
Eight Israelis were injured by the rockets, dozens of which were shot down harmlessly by Israel's "Iron Dome" missile interceptor system.
However, while Israel was keen to bar rocket fire, at its home front there seemed to be little public enthusiasm for waging a longer military campaign reminiscent of a 2008 to 2009 offensive in which 1,400 Palestinians and 13 Israelis were killed.
Twenty of the Palestinians killed in the Hamas-controlled enclave since Friday were militants and five were civilians, according to medical officials.
At least 80 Palestinians, mostly civilians, have been wounded in the violence, which also paralyzed life in much of southern Israel, forcing schools to close and hundreds of thousands to remain indoors.
The last conflagration of this intensity was in August after a cross-border attack launched from Egypt killed eight in Israel and Israel struck back killing 15 Gaza gunmen
Comments will be moderated. Keep comments relevant to the article. Remarks containing abusive and obscene language, personal attacks of any kind or promotion will be removed and the user banned. Final decision will be at the discretion of the Taipei Times.