Queen gets rock-star welcome on tour
DIAMOND DAME: The jubilee tour marking Britain's Queen Elizabeth II's 60 years on the throne started in Leicester, where the royals were treated to Bollywood-style dancing
Queen Elizabeth II was welcomed by a cheering crowd of thousands on Thursday as she began her diamond jubilee tour of Britain, accompanied by Prince William's wife, Catherine.
The queen visited Leicester in England's east Midlands, where locals were in full voice to give her the sort of enthusiastic welcome usually reserved for international rock stars.
Accompanied by her husband, Prince Philip, the Duke of Edinburgh; and Kate, the Duchess of Cambridge; the queen took a regular train for the 75-minute journey from London.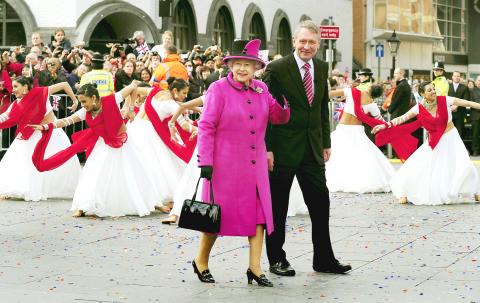 Britain's Queen Elizabeth II is escorted past dancers by Leicester City Mayor Peter Soulby in Leicester, central England, on Thursday.
Photo: Reuters
The bunting and British flags were out in force in Leicester, a multi-cultural city that has changed dramatically during the queen's 60-year reign.
About 10,000 union flags were handed out as the royals were greeted with screams as they chatted with the crowds, 10-deep and buzzing with excitement.
Leicester has the highest proportion of Indian-origin residents of any city in Britain, with more than a quarter defining themselves thus, and the royals were treated to displays of Bollywood-style dancing and South Asian music.
While other royals are touring Commonwealth states around the world to mark the queen's diamond jubilee, the sovereign and Prince Philip are visiting every region of Britain.
The pace is slow and steady to suit their ages — the queen is 85 and the Duke of Edinburgh 90 — with the visits spread out until July.
With Kate, 30, learning the ropes first-hand from her grandmother-in-law, the pair watched a student fashion show together, exchanging observations as they sat at the end of the catwalk.
It is rumored that Kate first caught William's eye at a student fashion parade in which she wore a see-though dress.
The queen wore a cerise cashmere dress and coat with a matching hat, while Kate, something of a fashion icon herself, was once again in a shade of blue.
The duchess picked a winner from a range of pairs of shoes created by the fashion students.
Winning designer Becka Hunt, 20, said she could not believe her blue shoes, inspired by the color of Kate's engagement ring, will now be made for Kate.
"I'm overwhelmed," she said. "She came over and said she loved all the designs. I cannot believe I've been chosen."
The royal party then attended a multi-faith service at Leicester Cathedral.
Erica Swift, 85, waited outside for a glimpse of the royals.
"Sixty years' reign — she's a gracious lady and I admire her a lot. Nobody can beat her. I wish her all the best now and for many more years," she said.
Prince Philip was in jovial form as he chatted to well-wishers outside the cathedral, while the queen and the duchess were given flowers.
The Leicester visit was Prince Philip's first major public engagement since undergoing minor heart surgery in December.
The duke remains in robust health, having gone carriage driving last weekend, the BBC reported.
Kate has already accompanied the queen on a handful of engagements, while William is spending six weeks as a search-and-rescue pilot with the Royal Navy in the Falkland Islands.
Comments will be moderated. Keep comments relevant to the article. Remarks containing abusive and obscene language, personal attacks of any kind or promotion will be removed and the user banned. Final decision will be at the discretion of the Taipei Times.