Chongqing's Bo back after absence
A once-rising Chinese political star commented for the first time yesterday on a scandal involving his police chief possibly seeking US asylum, saying he had been negligent in not foreseeing the crisis that has clouded his political future.
Chongqing Chinese Communist Party (CCP) Secretary Bo Xilai (薄熙來) spoke at a meeting on the sidelines of the national legislative session in Beijing, a day after his absence from an important meeting of the body raised speculation about new setbacks to his political ambitions.
Bo's highly unusual unexplained absence on Thursday came as the mystery surrounding the municipality's former police chief and Bo's former right-hand man, Wang Lijun (王立軍), grew even murkier. A local businessman said on Wednesday that police had threatened him over his plans to release information shedding light on connections between the former police chief and a local tycoon.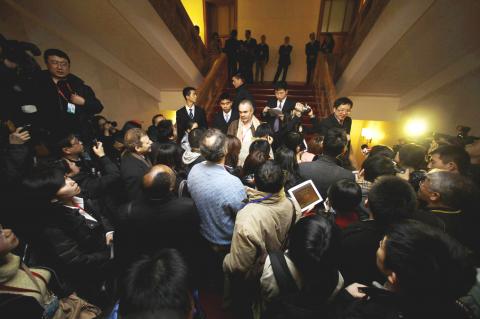 Journalists, whose names are not on the list of attendees allowed into a news conference by Chongqing Chinese Communist Party Secretary Bo Xilai, gather at the foot of a staircase to try to enter the news conference in Beijing yesterday.
Photo: Reuters
Bo was the only one of the 25 members of the CCP politburo not at Thursday's meeting of the National People's Congress, and no seat or place card for him was evident. The body is holding its annual 10-day session in Beijing this month.
Answering questions yesterday morning at a meeting of the Chongqing delegation, the telegenic, somewhat flamboyant Bo said he missed Thursday's session because he was ill. He said Wang was under investigation and conceded to failings in leadership.
"This was a case of negligent supervision on my part," said Bo, who had been considered a leading candidate for appointment to the party's all-powerful Politburo Standing Committee at its national party congress this fall.
Bo declined to discuss his political future other than say he had not factored this year's congress, the party's 18th since its 1921 founding, into his future.
"The best way for Chongqing to welcome the 18th congress is for us to do a good job carrying out our tasks," Bo said.
The Wang scandal and Bo's Thursday absence have drawn huge media attention and security personnel at the legislature's central Beijing seat, the Great Hall of the People, were forced to keep back hundreds of journalists hoping to gain entry to the meeting.
Bo had entrusted Wang with carrying out a high-profile crackdown on Chongqing's organized crime syndicates and their police protectors, a campaign later criticized for its alleged use of torture and other violations. Amid rumors that Wang was being investigated over past dealings in another city, he apparently fell out with Bo and made a dash for the US consulate in the city of Chengdu last month in what was believed to have been an unsuccessful bid for political asylum.
In an interview this week with Hong Kong-based Phoenix Satellite Television, Chongqing Mayor Huang Qifan (黃奇帆) said he pursued Wang to Chengdu and had persuaded him to return to Chongqing before state security agents took him away. In doing so, Huang said he had avoided a "foreign policy crisis." US officials say Wang had an appointment at the consulate and left on his own volition, but have refused to discuss anything that happened inside the consulate.
Speculation has been rife about the reasons behind Wang's visit to the consulate, with some saying he may have relayed information about corruption within the city administration. With a muzzled state-controlled media and little government transparency, such rumors easily gain traction online and in overseas publications that follow Chinese politics.
Lending them further heft was Chongqing businessman Zhang Mingyu's (張明渝) claim that police threatened him over his plans to release information about Wang's links to Chongqing property tycoon Weng Zhenjie (翁振傑). Weng has been linked to a local official who reportedly committed suicide amid reports of corruption and official collusion with gangsters in the sprawling southwestern metropolis.
Zhang's mobile phone was disconnected on Thursday and his whereabouts were unknown. Calls to Chongqing police headquarters and city government and CCP committee spokespersons rang unanswered.
Comments will be moderated. Keep comments relevant to the article. Remarks containing abusive and obscene language, personal attacks of any kind or promotion will be removed and the user banned. Final decision will be at the discretion of the Taipei Times.