Music stars honor Paul McCartney
Former Beatle Paul McCartney racked up yet another honor on Friday when he received the MusiCares 2012 Person of the Year award at a star-studded ceremony hosted by Grammy organizers ahead of this weekend's major music awards.
The line-up of artists celebrating the former member of the Fab Four at the charitable affair included veteran artists Neil Young and James Taylor, singers Katy Perry, Norah Jones, Alicia Keys and Diana Krall, and pop rockers Coldplay and the Foo Fighters.
McCartney opened with his own rendition of Magical Mystery Tour and throughout the night of tributes a string of performers sang tunes from his life's work.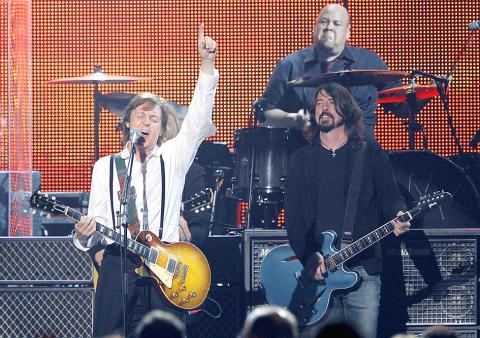 British musician Paul McCartney, left, performs with Dave Grohl of the Foo Fighters, front right, during the 2012 MusiCares Person of the Year tribute honoring McCartney in Los Angeles, California, on Friday.
Photo: Reuters
Katy Perry belted out a rendition of Hey Jude. Neil Young rocked the house with I Saw Her Standing There. Cold Play sang We Can Work it Out, and Alicia Keys gave a soulful version of Blackbird on piano.
"For me, obviously it's great to hear these fantastic artists singing my songs," McCartney said when it came time to accept his award.
He noted the different nuances each artist brought to his music and, of course, thanked everyone there.
Actor-comedian Eddie Izzard hosted the event to honor McCartney for his creative accomplishments over decades in the industry and his charitable work off the rock 'n' roll stage.
The gala for MusicCares, which is supported by Grammy organizers at the Recording Academy, raised US$6.5 million to provide aid to musicians in need of help. The night featured a live auction of a red and cobalt blue piano, painted by Peter Max for Ringo Starr, that sold for US$175,000.
It has been a big week in Hollywood for McCartney, who made history as a Beatle with John Lennon, George Harrison and Ringo Starr.
He emblazoned his name across a star on Hollywood's Walk of Fame alongside his former mates near the legendary Capitol Records building. He is scheduled to perform at the music industry's top awards show, the Grammys, today.
After the infamous breakup of the Beatles in 1970, McCartney went on to score hits with his band Wings and in duets with the likes of Michael Jackson and others. His solo career has flourished and he has a new album, Kisses on the Bottom, that was just released.
It features songs McCartney has said he loved as a child growing up in Liverpool including Bye Bye Blackbird and It's Only a Paper Moon. And it has two new songs, Only Our Hearts and My Valentine, that McCartney reportedly wrote for his new wife, Nancy Shevell.
Comments will be moderated. Keep comments relevant to the article. Remarks containing abusive and obscene language, personal attacks of any kind or promotion will be removed and the user banned. Final decision will be at the discretion of the Taipei Times.