US club members take icy Christmas dip
As most Americans celebrated Christmas Day with warm feasts and crackling fires, members of the country's oldest Polar Bear Club cast off their sweaters for an icy plunge into the Atlantic.
A few dozen men and women of all ages took part in a special Christmas edition of the monthly tradition, gathering on a windy beach at Coney Island on a 5?C winter's day.
A guitar-playing Santa Claus added some holiday cheer to the ritual, which saw club members wade into the freezing water at a seaside promenade in front of the New York Aquarium, in a tradition dating back more than a century.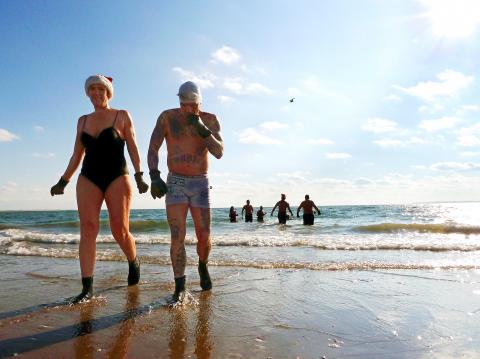 Polar Bear Club members take a Christmas Day swim in the icy Atlantic ocean at Coney Island beach in New York on Sunday.
Photo: AFP
Onlookers in hats and gloves watched and took cellphone pictures of the spectacle, as the bathers stripped down to their swimsuits and plunged into the frigid waters, the novices shrieking in painful celebration.
"It was pretty crazy," said Alex Birman, an 18-year-old student from Virginia. "I liked it; it was fun. It was my first time. My uncle is a member of the Polar Bear Club, so I decided to join him."
Veterans were more nonchalant. Curtrell Gore, 60, has been taking the icy dips since 1994 and became a full member in 2000.
"Today is not a very cold day — 25, 30 degrees [Fahrenheit] — I cannot resist the beach. With 17 degrees I can resist the beach, but today it was OK," he said.
The Coney Island Polar Bear Club was founded in 1903 by fitness pioneer Bernarr MacFadden, who believed that a dip in frozen water "can be a boon to one's stamina, virility and immunity," according to the group's Web site.
The idea has since spread across the US and Canada, with similar chapters taking regular frigid swims in the ocean and other bodies of water, often using the events to raise money for charity.
Members have been known to break ice on frozen lakes or wade through the snow in order to reach the water. The Coney Island group says it is not aware of anyone having suffered from hypothermia or frostbite in the past 20 years.
Organizers expect a much larger crowd of about 300 people to attend the New Year's Day plunge at Coney Island on Sunday.
The group holds similar swims on the first Sunday of every month from November through April.
Comments will be moderated. Keep comments relevant to the article. Remarks containing abusive and obscene language, personal attacks of any kind or promotion will be removed and the user banned. Final decision will be at the discretion of the Taipei Times.