Anti-whaling forces gain new tool at sea
EYES IN THE SKY: The cost of two drones — which can cover hundreds of kilometers — was partly paid for by sympathizers from a US port security firm in New Jersey
Hardline whaling opponents attempting to stop Japan's annual whale hunt in the Antarctic yesterday said they had intercepted and photographed its whaling fleet using long-range, pilotless drone aircraft.
The Sea Shepherd Conservation Society said it located the Japanese factory ship Nisshin Maru off Australia's western coast on Saturday using the drones, the first time this season it has made contact with the whalers.
However, other Japanese security ships shielded the vessel "to allow it to escape," Sea Shepherd said in a statement.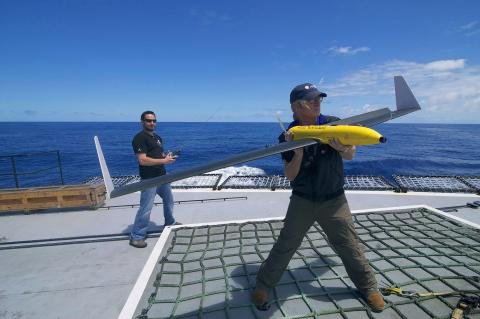 Second mate Peter Brown holds a pilotless drone aircraft on Saturday as he stands on the deck of the Steve Irwin, off Australia's western coast.
Photo: Reuters/Sea Shepherd,Barbara Veiga
"We caught them due west of Perth," founder Paul Watson told Reuters by satellite phone from the ship Steve Irwin. "For the next few days we will be chasing them. We are heading south."
Watson said Sea Shepherd had caught up with the fleet at 37° south, 1,600km above Antarctic waters.
The Sea Shepherd waited for the Nisshin Maru after hearing from fishermen it had sailed through the Lombok Strait in Indonesia on its voyage to Antarctic waters.
The two drones are equipped with cameras and detection equipment and allow Sea Shepherd to monitor the whaling fleet from a distance, he said.
Watson said sympathizers from a US port security firm in New Jersey contributed to the cost of the two drones.
No whales had been killed so far, he added.
"This is going to be a long hard pursuit from here to the coast of Antarctica," Watson said. "But thanks to these drones, we now have an advantage we have never had before — eyes in the sky."
"We can cover hundreds of miles with these drones and they have proven to be valuable assets for this campaign," he said.
While the Steve Irwin was being tailed by the harpooners' security detail, Watson said Sea Shepherd's other vessels, the Bob Barker and Brigitte Bardot — which can travel faster than the whalers — were free to chase the Japanese south.
Commercial whaling is banned under an international treaty, but Japan has since 1987 used a loophole to carry out "lethal research" in the name of science — a practice condemned by environmentalists and anti-whaling nations.
Confrontations with the increasingly sophisticated Sea Shepherd group have escalated in recent years, with one clash sinking an activist powerboat and a protester arrested for boarding a Japanese ship.
Japan's coast guard has deployed an unspecified number of vessels to protect the whaling ships.
Comments will be moderated. Keep comments relevant to the article. Remarks containing abusive and obscene language, personal attacks of any kind or promotion will be removed and the user banned. Final decision will be at the discretion of the Taipei Times.