Dust storm ruins Cameron's plans for visit to British troops in Afghanistan
British Prime Minister David Cameron held talks with UK troops in southern Afghanistan on Tuesday amid discussions over how international forces plan to meet their 2014 deadline to withdraw from combat.
Cameron made a previously unannounced visit to greet British forces in the southern province of Kandahar, but had to cancel plans to travel to neighboring Helmand Province — where most of Britain's 9,500 troops are based — after a dust storm closed a runway at a British base.
The British leader had not planned to visit Kabul, but spoke by telephone to Afghan President Hamid Karzai and agreed to hold face-to-face talks in London early next year.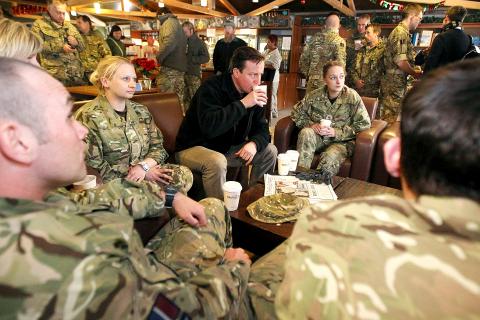 British Prime Minister David Cameron meets British soldiers in a recreation hall at Kandahar airfield during a visit to Afghanistan on Tuesday.
Photo: Reuters
During his brief visit, Cameron held talks in Kandahar with a British Royal Air Force crew and US General James Huggins, commander of US and NATO forces in southern Afghanistan.
That follows a meeting last week of Britain's National Security Council, which is considering options for the withdrawal of troops prior to the end of the international combat mission in 2014.
Cameron has confirmed that 500 UK troops will leave next year, but has not yet set out how many will exit in 2013.
"I don't want to see some massive cliff-edge in 2014 — I don't think that's practical," Cameron said. "But I don't think we need to make hard and fast decisions at this stage."
In parliament on Monday, British Defense Secretary Philip Hammond told lawmakers that Britain was waiting for the US to announce its own drawdown pattern before making any decisions.
Cameron confirmed there was "an ongoing conversation with our allies," about how and when NATO forces should be withdrawn over the next three years.
He also insisted Britain would not extend its involvement in the military operations that began in 2001.
"I'm absolutely clear that the British public deserve to know there is an endpoint to our involvement in Afghanistan — and that endpoint is 2014," Cameron said.
Plans already announced by the US and about a dozen other nations will see the number of foreign troops in Afghanistan shrink by about 40,000 by the end of next year — including 33,000 US forces.
In summer, there were about 130,000 foreign troops in Afghanistan — with more than 10,000 expected to withdraw by the end of this month.
Cameron was philosophical about the storm's disruption, which meant he couldn't deliver a traditional Christmas message to British forces in Helmand.
"What we have experienced today is what people working out here experience the whole time," he said.
Comments will be moderated. Keep comments relevant to the article. Remarks containing abusive and obscene language, personal attacks of any kind or promotion will be removed and the user banned. Final decision will be at the discretion of the Taipei Times.