Brazil aiming for an environmentally friendly Soccer World Cup tournament
With solar panels, recycled stadium seats and rainwater sprinklers, Brazil hopes to make the 2014 Soccer World Cup the most environmentally friendly yet.
At a dozen stadium construction and renovation sites around the country, builders are hoping to meet or even exceed new FIFA recommendations aimed at reducing the carbon footprint of the world's biggest sporting event.
"We are no longer accepting engineering works that do not take into account environmental sustainability," said the head of the Sao Paulo architecture and engineering syndicate (Sinaenco-SP), Jose Roberto Bernasconi.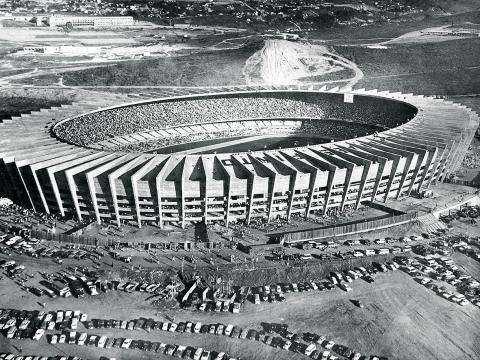 The Governor Magalhaes Pinto Stadium is pictured in 1960 in Belo Horizonte, Brazil. The stadium wants to go beyond FIFA requirements for the 2014 Soccer World Cup and achieve official certification from the US Green Building Council.
Photo: AFP
Brazilian authorities are racing to build or renovate 12 stadiums in time for the event and Brazilian Sports Minister Aldo Rebelo pledged earlier this month that work on the venues would largely be completed ahead of schedule.
However, FIFA president Sepp Blatter expressed concerns over the weekend about Brazil's preparations and other top officials have complained about the lack of infrastructure and poor public transport and roads.
At the Governor Magalhaes Pinto Stadium in the southeastern city of Belo Horizonte, planners say they have exceeded the world football body's sustainability guidelines and are looking to secure an official certification from the US Green Building Council.
Renovators of the stadium — first built in 1965 — are adding a 22.7 million litre rainwater collection system and are deliberately sourcing materials locally to reduce fuel emissions.
All of the concrete removed from the original structure was reused in the renovations or other nearby projects, about 800,000 cubic meters of dirt removed from the site was used to patch up mining damage and the original 50,000 seats were donated to local stadiums and gymnasiums.
"Everything was reused. There was no other waste or discarded materials that could have been reused," Vinicius Lott of the state government's Sustainable Cup project said.
Builders plan to install about 6,000 solar panels on the roof to provide electricity to about 1,500 nearby homes.
"There's an idle roof receiving a lot of sunlight. So we decided to cover it with photovoltaic cells and turn it into a solar power plant," said an electrical engineer involved in the project, Alexander Heringer.
The US$6.5 million solar plant will generate about 1.5 megawatts per hour — a tiny fraction of the thousands of megawatts produced by a hydroelectric dam — but the costs should be fully recovered during its 25-year lifespan.
The operating costs are also expected to be "very cheap" because the panels would require little maintenance and would be cleaned by rainwater, Heringer said.
Brazil plans to offer an international tender for the panels — which cannot be manufactured domestically — and Heringer said German, Chinese, Korean, Spanish and Italian firms have expressed interest.
After the stadium's completion, the state government plans to launch similar solar projects at another stadium and an international airport.
Belo Horizonte, with about 2.5 million residents, expects to host six 2014 World Cup matches and three Confederations Cup matches in 2013.
The city — Brazil's sixth largest — plans to welcome 100,000 tourists during the World Cup and the Minas Gerais state expects up to US$2.8 billion in both public and private investments leading up to the event.
Comments will be moderated. Keep comments relevant to the article. Remarks containing abusive and obscene language, personal attacks of any kind or promotion will be removed and the user banned. Final decision will be at the discretion of the Taipei Times.