Philippines flood toll tops 1,000
DNA: Authorities in Cagayan de Oro and Iligan called off plans for mass burials after the justice department insisted on proper documentation of victims and individual burials
Philippine President Benigno Aquino III yesterday pledged aid to communities hit by flash floods that walloped the south, as the official toll topped 1,000 dead or missing.
Aquino flew to Mindanao island to inspect the ports of Cagayan de Oro and Iligan, choked with drying mud and crumpled homes, as well as hundreds of decomposing corpses that have raised health fears.
Mass burial plans for some of the dead that were announced a day earlier were called off, with officials saying each would be fingerprinted and DNA samples taken from them first for future identification.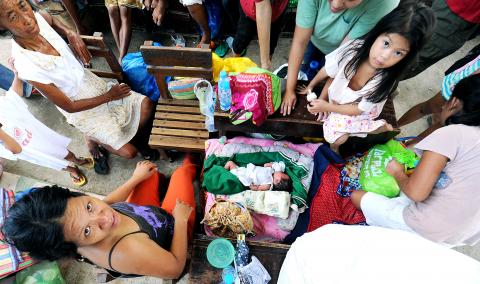 Residents affected by flash floods wait for food distribution at an evacuation center in Iligan, Philippines, yesterday.
Photo: AFP
"I assure you the government will help you rebuild your homes, but in return we expect you to refrain from moving back to those places that put your lives at constant risk," Aquino said in a speech at an evacuation center.
The government said 957 people are dead and 49 others are missing after flash floods ravaged the two port cities as well as nearby areas overnight on Friday during the onslaught of Tropical Storm Washi.
Officials and experts said many of the dead were informal settlers living in shantytowns built on river sand bars made up of soft and unstable sediment.
Aquino pledged to repair damaged roads and water systems, mass housing units in safe relocation areas and water level sensors for all major river basins across the country to help communities avoid similar disasters in the future.
Washi brought heavy rains that swelled rivers, unleashing flash floods and landslides that struck in the dead of night.
The toll rose sharply as the bodies of people who were swept out to sea were recovered.
"They were underwater for the first three days but now, in their state of decomposition, they are bloated and floating to the surface," said Benito Ramos, the civil defense office chief.
A British national was among those killed by the storm, Britain's Foreign Office said.
A day after announcing mass burial plans for unclaimed bodies, the local governments of Iligan and nearby Cagayan de Oro said the Philippine Department of Justice had insisted on proper documentation as well as individual tombs.
They said the burials would now have to wait until small teams of government forensics experts finish documenting each cadaver, a tedious process performed at overflowing mortuaries and, in the case of Cagayan de Oro, near a landfill.
"The mass burial is not just dumping them in a pit. We are building an apartment-type [mausoleum] with individual compartments. We can't just put them in all together," Cagayan de Oro City Councillor Alvin Bakal said.
He said the city government was confidant relatives would eventually be able to recognize and claim many of the 600-odd recovered bodies there so far and the city was building tombs for just 40 unclaimed bodies.
With bodies lying everywhere, there was controversy over Cagayan de Oro authorities' decision to bring 30 unclaimed cadavers close to a nearby landfill for temporary storage.
Pictures of the bodies, kept under a tent a few meters away from the dump where scavengers picked through piles of garbage for items to sell, caused outrage as they circulated on social networking sites.
"Looking for your mother, father, wife, husband, daughter, son, brother, sister who have been missing since Saturday's flash floods? Go to the city's dumpsite," Mindanews, a Mindanao-based news outfit, said on its Web site.
More than 284,000 people have been displaced by the storm with over 42,000 huddled in crowded, makeshift government evacuation centers.
TAIWANESE DONATION
Taiwan has donated US$150,000 to the Philippines to assist with disaster relief efforts, the Ministry of Foreign Affairs said in a statement on Monday.
The ministry also sent its condolences to the people of the Philippines, the statement said.
Additional reporting by staff writer, with CNA
Comments will be moderated. Keep comments relevant to the article. Remarks containing abusive and obscene language, personal attacks of any kind or promotion will be removed and the user banned. Final decision will be at the discretion of the Taipei Times.