Paris crackdown of 1961 Algeria protest revealed
When Yasmina Adi got access to archives documenting the 1961 repression of Algerian protesters in Paris, she was shocked to uncover a trove of material relating to gaps in the story of one of the most contested events in recent French history.
As Algeria's battle for independence spilled into France, Paris police chief Maurice Papon ordered police to crack down on thousands of Algerian protesters who defied a curfew on Oct. 17, 1961. Dozens of bodies were later pulled from the River Seine.
Papon, who died in 2007, was the only French Nazi official to be convicted for his role in the deportation of Jews during World War II. France has acknowledged the deaths of 40 people in the 1961 incident, but Adi says her research suggests it was much worse.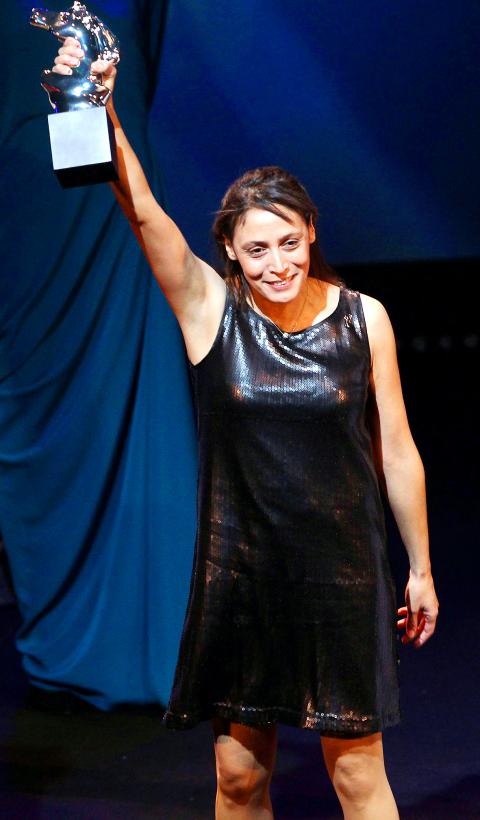 Director Yasmina Adi receives the Muhr Arabic Documentary – Second Prize award for her film, Ici, On Noie Les Algeriens – 17 Octobre 1961 (Here, We Drown Algerians – October 17, 1961), at the Dubai International Film Festival award ceremony in the United Arab Emirates on Wednesday.
Photo: AFP
"This period remains a blank page. France doesn't recognize Oct. 17 in school history books, it is not mentioned. Nothing you saw is in textbooks," Adi, who is of Algerian origin, said after Here, We Drown Algerians – October 17, 1961, which she directed, aired at the Dubai International Film Festival last week. "The people you saw are getting old, so this is an attempt to maintain the historical memory."
The documentary is narrated through the testimony of Algerians dragged off the streets by police and uses archive footage showing haunting images of thousands held in detention centers, transported in buses and sitting in airplanes during deportation.
A media campaign branded the protesters as Muslim terrorists, Adi's film says.
Some, such as Hadda Khalfi, one of the main interviewees who explains how her husband disappeared, never to return, have never received an apology or compensation from the state.
"I managed to [access] the archives of the police department and state archives, which even some historians have not got permission to see. Then I asked myself what security bodies were there and I found they all had their own archives," Adi said. "It was the same for the filmed material ... sometimes I noticed there were two people taking photos, so I said I have to go find them."
"So I pieced together each part, when they put the Algerians on buses, when they detained them at the police department, the unseen photos from the Palais du Sport, the expulsions, the women's protest. At a certain point I said to myself 'wow,'" she said.
The true number of those who died may never be known.
"It's difficult to establish a figure. Some say 100, some say 200, some say 400, it's complicated. The police prefecture has a list of dead, but these lists are not trustworthy," Adi said. "We could say around more than 1,500 were expelled."
Adi took the title for the film from graffiti daubed on a bridge over the Seine on Oct. 28, 1961, and caught on camera before the authorities could remove it. The words and the image she says dropped out of France's collective consciousness for decades.
She says France's unwillingness to offer more public recognition of what happened in those days contrasts with France's championing of Arab Spring causes, such as Libya, which was taken up by French President Nicolas Sarkozy and Bernard Henri-Levy, a prominent public intellectual in France.
"Sarkozy has said a few weeks ago why should Turkey be in Europe? If you Turks want to be in Europe you have to recognize the Armenian genocide. Before giving lessons to others, France ought to look at itself in history," she said. "As citizens, we should not allow ourselves to be manipulated by methods, images, language, because they cross time and governments take up the same methods and language."
France has had a complex relationship with Algeria since it was forced to give up a colony it ruled for 132 years in 1962 after a bitter war. Sarkozy has refused to apologize for Algerian dead.
France considered Algeria an integral part of the French state and more than 1 million French fled the country in the months before Algeria finally became independent.
Adi said she was surprised to see large audiences of young French people attending the screenings of her film in France when it was released in October.
"There were few Algerians, but many French at the screenings, because many young people in particular are rediscovering the past and realizing it's not an Algerian problem, but a Franco-Algerian problem," she said.
Comments will be moderated. Keep comments relevant to the article. Remarks containing abusive and obscene language, personal attacks of any kind or promotion will be removed and the user banned. Final decision will be at the discretion of the Taipei Times.