Last US forces leave Iraq
FINALLY: Expected to last just months, key decisions by US war planners extended their occupation of Iraq to nine years. Meanwhile, the Iraqiya bloc has boycotted parliament
The last US forces left Iraq and entered Kuwait yesterday, nearly nine years after launching a divisive war to oust former Iraqi president Saddam Hussein and just as the oil-rich country grapples with renewed political deadlock.
The last of about 110 vehicles carrying 500-odd troops mostly belonging to the 3rd Brigade, 1st Cavalry Division, traversed the border at 7:30am, leaving just a couple hundred soldiers at the US embassy in Baghdad, in a country where there were once nearly 170,000 troops on 505 bases.
It ends a war that left tens of thousands of Iraqis and nearly 4,500 US soldiers dead, many more wounded, and 1.75 million Iraqis displaced, after the US-led invasion unleashed brutal sectarian killing.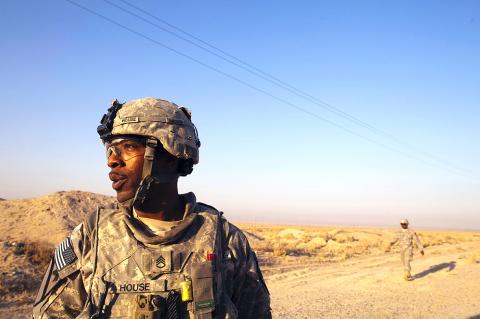 US Staff Sergeant Prince House from the 3rd Brigade Combat Team, 1st Cavalry Division, assembles his team back to their Mine Resistant Ambush Protected vehicle after crossing into Kuwait from Iraq yesterday.
Photo: EPA
"[It's] a good feeling ... knowing this is gonna be the last mission out of here," said Private First Class Martin Lamb, part of the final "tactical road march" out of Iraq. "[It's] part of history, you know — we're the last ones out."
The withdrawal comes as the country struggles with renewed political deadlock as the Iraqiya bloc, which won elections in March last year and drew most of its support from minority Sunnis, said it was boycotting parliament to protest Iraqi Prime Minister Nouri al-Maliki's centralization of decisionmaking.
The bloc, which controls nine ministerial posts, has not, however, pulled out of Iraq's national unity government led by Maliki, a Shiite.
"We can no longer remain silent about the way the state is being administered, as it is plunging the country into the unknown," the bloc, which holds 82 seats in the 325-member legislature, said in a statement on Saturday.
Iraqiya said the government's actions, which it claimed included stationing tanks and armored vehicles outside the houses of the bloc's leadership in the heavily fortified Green Zone, "drives people to want to rid themselves of the strong arm of central power as far as the Constitution allows them to."
Provincial authorities in three Sunni-majority provinces in northern and western Iraq have all moved to take up the option of similar autonomy to that enjoyed by Kurds in northern Iraq, drawing an angry response from Maliki.
Key political issues such as reform of the mostly state-run economy and a law to regulate and organize the lucrative energy sector also remain unresolved, to say nothing of an explosive territorial dispute between Arabs and Kurds centered around the northern city of Kirkuk.
The completion of the withdrawal brings to a close nearly nine years of the US military stationing troops in Iraq, beginning with a "shock and awe" campaign in 2003 to oust Hussein, which many in Washington believed would see US forces conclude their mission in Iraq within months.
However, key decisions taken at the time have since been widely criticized as fueling what became a bloody Sunni Arab insurgency, in particular dissolving the Iraqi army and purging the civil service of all members of Hussein's Baath Party, including lower-ranking members.
The insurgency eventually sparked communal bloodshed, particularly after the February 2006 bombing of a Shiite shrine in the predominantly Sunni city of Samarra by al-Qaeda.
More than 100,000 Iraqis have been reported killed in violence since the invasion, according to British non-governmental organization Iraq Body Count.
The US embassy will now retain just 157 US soldiers, for training of Iraqi forces, and a group of marines to secure the diplomatic mission.
Comments will be moderated. Keep comments relevant to the article. Remarks containing abusive and obscene language, personal attacks of any kind or promotion will be removed and the user banned. Final decision will be at the discretion of the Taipei Times.