Protests grow in troubled Kazakh region
UNPRECEDENTED: Protesters gathered in Aktau, oil-rich Mangistau's capital, and outbreaks of violence left 12 people dead. The president called a state of emergency
Protests in Kazakhstan's oil--producing Mangistau region, unprecedented in the Central Asian state's recent history, spread yesterday to the regional capital, where hundreds of angry protesters faced reinforced police troops.
Late on Saturday, one person was killed and 11 people were wounded in a fresh clash with police in the village of Shetpe, bringing the total official death toll in the western region to 12 and the number of wounded to nearly 100.
Kazakh President Nursultan Nazarbayev declared a 20-day state of emergency on Saturday in the oil city of Zhanaozen, in the same region, after at least 11 people were killed there in violence that broke out on Friday.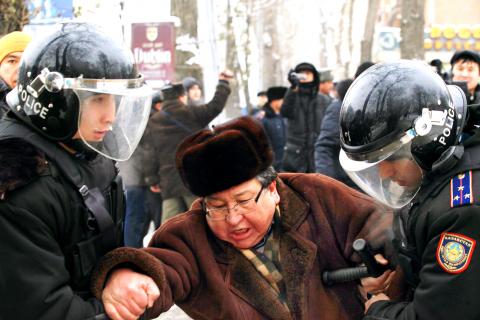 Kazakh riot police officers detain a demonstrator at an opposition rally in Almaty, Kazakhstan, on Saturday. Speakers at a small meeting in the center of Almaty demanded that the government set up an investigation commission to explore the precise causes of the violence in Zhanaozen.
Photo: AFP
Public protests are rare in Kazakhstan, Central Asia's largest economy and biggest oil producer, where the 71-year-old Nazarbayev has overseen more than US$120 billion in foreign investment during more than two decades in power, but tolerates little dissent and puts stability before democratic freedoms.
The Organization for Security and Cooperation in Europe said it was worried by the confirmed death toll and urged the Kazakh authorities to use force proportionately, respect human rights and hold a transparent investigation.
Yesterday morning, about 500 angry protesters gathered near the main square of Aktau, a city of 160,000 on the Caspian Sea, some 2,600km southwest of the capital Astana.
Braving biting frost, they faced a large force of black-clad riot police holding shields, a correspondent reported from the scene. Some policemen were armed with automatic rifles.
"Take the troops out of Mangistau!" read a long banner in Kazakh held by a dozen protesters.
One protester, Sarsekesh Bairbekov, said he had been fired by oil firm Karazhanbasmunai (KBM) in May.
"I worked there for 20 years. I was a welder and lost an eye," the 58-year-old said.
His wage was 120,000 tenge (US$810) before he was fired.
KBM is jointly owned by London-listed KazMunaiGas Exploration Production and CITIC, China's biggest state investment company.
"We want them to take away the troops," Bairbekov said, referring to the state of emergency imposed in Zhanaozen after the riots.
"They killed local people," he added, still wearing maroon-and-blue KBM overalls.
Many protesters called into question the official death toll announced after the riots in Zhanaozen.
One oil worker, who declined to be named, said he had just visited a blood donor center in Aktau.
"It is working round-the-clock. If only 10 people were killed, why is it working round-the-clock?" he asked.
Nurlan Mukhanov, deputy chief doctor at the Mangistau regional hospital in Aktau, said 35 wounded had been brought from Zhanaozen and another three from Shetpe.
"The majority have gunshot wounds," Mukhanov said. "We should be ready for any situation."
Comments will be moderated. Keep comments relevant to the article. Remarks containing abusive and obscene language, personal attacks of any kind or promotion will be removed and the user banned. Final decision will be at the discretion of the Taipei Times.