Republicans take aim at Obama in Iowa debate
SLIP-SLIDING: A recent poll in Iowa showed that Newt Gingrich's support has dropped 12 points, putting Mitt Romney once again on top, while Ron Paul sits in third
Republican White House hopefuls Newt Gingrich and Mitt Romney took aim at US President Barack Obama — not each other — on Thursday in their final debate before the first nominating event in Iowa.
"I can debate Barack Obama and I think in seven three-hour debates, Barack Obama will not have a leg to stand on in trying to defend a record that is terrible and an ideology that is radical," Gingrich said in opening remarks in a debate hosted by Fox News.
Romney slammed Democrat Obama for trying to "appease or accommodate the tyrants of the world" and cited his weak response in trying to retrieve a drone brought down in Iran.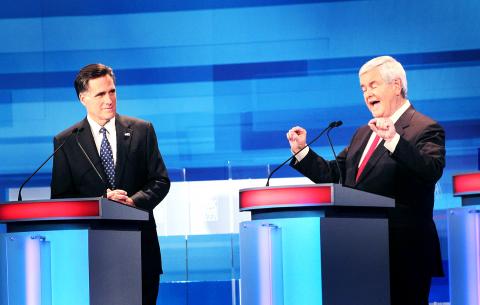 Former Massachusetts governor Mitt Romney, left, listens as former speaker of the House of Representatives Newt Gingrich answers a question during a Republican presidential debate in Sioux City, Iowa, on Thursday.
Photo: AFP
"Foreign policy based on pretty please? You have to be kidding," Romney said, before going on to attack Obama's economic record after side-stepping the bait when moderators tried to get him to take on Gingrich.
"The president will level the same attack," Romney said when asked to respond to earlier comments by Gingrich that the former governor of Massachusetts should give back the millions he made working at a private equity group that bankrupted companies and laid off workers.
"In the real world that the president has not lived in ... not every business succeeds," he said, adding that many of the businesses his firm invested in created tens of thousands of jobs.
While the frontrunners worked to keep it positive and avoid any serious gaffes after a week of trading blows, they also had to fight off attacks by rivals seeking to raise their profile — and poll numbers.
US Representative Michele Bachmann hit out at Gingrich for taking US$1.6 million in "influence peddling" fees from government-owned mortgage lender Freddie Mac, a target of conservative critics.
"What she just said is factually not true. I never lobbied under any circumstance," Gingrich replied. "Second, I want to state unequivocally for every person watching tonight: I have never once changed my positions because of any kind of payment."
The former US House of Representative speaker said he was "doing just fine" with earnings from book sales and appearance fees and accepted a consulting job with Freddie Mac because of its important role in making sure "people have a chance to buy a house."
Given up as politically dead months ago, Gingrich surged to the front of the pack last month as early contenders Texas Governor Rick Perry and Herman Cain saw their support collapse amid blunders and sex scandals.
While he retains the lead nationally, Gingrich saw support fall 12 points in a poll of Iowa voters released on Thursday, which put Romney back on top of the unsettled field less than three weeks before the state's caucuses on Jan. 3.
The largely rural midwestern state barely figures in the general election, but has become key to narrowing the field in the presidential nominating contests.
Romney won the support of 23 percent of Iowa voters, while Gingrich sank to 20 percent in the Rasmussen Report poll.
US Representative Ron Paul was on 18 percent, while Perry and Bachmann held 10 percent and 9 percent respectively.
A strong showing in Iowa provides momentum going into New Hampshire, which votes on Jan. 10, and the more populous South Carolina and Florida, which vote on Jan. 21 and Jan. 31, respectively.
Comments will be moderated. Keep comments relevant to the article. Remarks containing abusive and obscene language, personal attacks of any kind or promotion will be removed and the user banned. Final decision will be at the discretion of the Taipei Times.