CELAC meet aims criticism at US
'OUR AMERICA': Several South American leaders spoke of CELAC as an organization independent from the north, but the US said the group could be its partner
Leaders of Latin American and Caribbean nations worked on Saturday to finalize an action plan for a new Americas bloc, which excludes the US and which, according to its organizers, is designed to usher in a new era of Latin American "independence."
Led by Venezuelan President Hugo Chavez, the leaders gathered on Friday at a military fort for the two-day meeting to forge the Community of Latin American and Caribbean States (CELAC), an alliance of 33 countries that also excludes Canada.
"We are laying down here a cornerstone of our future unity, independence and development," Chavez said in his welcoming address.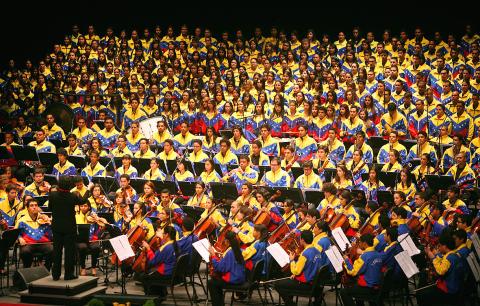 Venezuela's Simon Bolivar Youth Orchestra performs at the opening ceremony of the summit of the Community of Latin American and Caribbean States in Caracas, Venezuela, on Friday.
Photo: EPA
More than 10,000 security forces are ensuring safety of the summiteers in Caracas, one of the region's most dangerous cities.
"For the first time, we will have an organization for our America. And if it works, if it's successful, it can be considered the biggest event in our 200 years of semi-independence," Cuban President Raul Castro said.
CELAC should be a "political union to build a large power center of the 21st century," the Venezuelan president said on the eve of the summit, pointing to strong regional growth, with many countries developing closer ties with Asia or Europe and reducing their traditional reliance on the US.
Nicaraguan President Daniel Ortega, a strong Chavez ally, said the birth of the new group represented a "death sentence for the Monroe Doctrine," referring to the 1823 declaration by then-US president James Monroe which helped establish US power in the region.
In Washington, US Department of State spokesman Mark Toner said the US would obviously continue "to work through the OAS as the pre-eminent multilateral organization, speaking for the hemisphere."
However, another Department of State spokesman, William Ostick, said the new organization could be a partner for Washington as well.
"Subregional groupings are potentially important representatives of the hemisphere and can be useful partners for the United States," he said.
On Thursday, foreign ministers adopted a democracy clause in CELAC bylaws, although there was no consensus on how the group would conduct its decisionmaking.
"It provides that if a country violates a democratic order, we would open consultations and the country could be suspended" from CELAC, said Antonio Jose Ferreira Simoes, Brazil's vice minister for South America, Central America and the Caribbean, adding that Brazil favored a decisionmaking process based on consensus.
The foreign ministers also approved statements on the sovereignty of the Falkland Islands, nuclear weapons, food security and terror, according to Simoes.
Comments will be moderated. Keep comments relevant to the article. Remarks containing abusive and obscene language, personal attacks of any kind or promotion will be removed and the user banned. Final decision will be at the discretion of the Taipei Times.