Argentina's Kirchner kept 'alive' a year after death
CULT OF PERSONALITY: A tomb paying tribute to the former president has been unveiled in what analysts say is part of a plan by the ruling party to foster greater unity
When Argentine President Cristina Fernandez recalled her late husband and predecessor on Sunday after winning re-election, thousands of supporters roared: "Nestor's not dead. He lives among the people!"
A year after former Argentine president Nestor Kirchner's death, supporters have kept his memory alive by building a cult of personality around him.
Fernandez still wears black in mourning and she often tears up when she mentions him in public speeches. Kirchner's name has been bestowed upon airports, hospitals, a soccer tournament and even a dairy research center.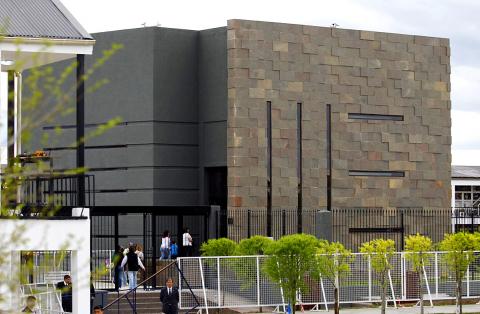 The mausoleum dedicated to former Argentine president Nestor Kirchner is seen in Rio Gallegos, Argentina, on Thursday.
Photo: Reuters
In the Patagonian town of Rio Gallegos, a three-story mausoleum — which local media say outmatches the memorials of Winston Churchill or Mahatma Gandhi — was unveiled on Thursday to pay tribute to a leader who some say is becoming a legend.
"Today you see Nestor's image more than Peron's at political marches, it's everywhere," said Micieli, referring to former Argentine president General Juan Domingo Peron, whose party still dominates politics in the country nearly 40 years after his death.
Stencil designs depicting Kirchner have sprung up across the capital and he has been given a make-over as the "Nestornauta," a play on the cult comic book hero El Eternauta, who travels eternally through time.
Young economists played on his initials, creating the "GraN MaKro" group to spread word of his economic model. La Campora, a youth movement founded by his son, has revived political activism that was dormant for many years.
Kirchner's image, locked in an embrace with Fernandez, also featured heavily during her re-election campaign. Sympathy over her widowhood helped her win 54 percent of votes last weekend.
Kirchner was elected president as a virtual unknown in 2003 and the center-leftist became known for his irreverent style. Critics reviled his interventionist policies as well as his public tirades against some business leaders and journalists.
However, when he died of a heart attack last year at the age of 60, many Argentines remembered him as the man who rebuilt Latin America's third-largest economy after a deep 2001-2002 crisis.
They also praised him for his efforts to bring military leaders to trial for human rights crimes committed during the country's 1976-1983 dictatorship.
"His memory deserved a work of art that is in keeping with his magnitude and his legacy," Anibal Billoni, a provincial lawmaker in Santa Cruz and old friend of Kirchner's, said in reference to the mausoleum while standing along "Nestor Kirchner" street in Rio Gallegos.
Marcos Novaro, director of the CIPOL center for political studies, says the government exploits Kirchner's image.
"There's a Peron cult. Is it the same when a street is named after Nestor Kirchner? I don't think so," Novaro said. "It's part of a party strategy to maintain unity."
Argentina is known for its cult of personality, most famously centered on Peron and his wife, Evita.
Evita was such a powerful symbol that in the 1950s the military whisked her embalmed body to Italy, where she was buried secretly, only to return to Argentina two decades later.
When Peron died some years later, the government ordered the construction of a mausoleum to preserve both of their bodies as well as those of almost every leader going back to independence hero Jose de San Martin.
The plan never came through and Peron's corpse has been disinterred and mutilated by thieves who sawed off his hands.
"When Peron died they wanted to build 'the altar of the nation' and Evita's body roamed for two decades, so in perspective, Kirchner's three-story mausoleum is quite modest," said Maria Victoria Murillo, a professor of political science at Columbia University.
Comments will be moderated. Keep comments relevant to the article. Remarks containing abusive and obscene language, personal attacks of any kind or promotion will be removed and the user banned. Final decision will be at the discretion of the Taipei Times.