Commonwealth leaders agree to be more proactive on defending human rights
Leaders of the Commonwealth group of mostly former British colonies yesterday took tentative steps to tighten up on human rights abuses by members, but have still to address tougher measures some warn the group must take to remain relevant.
Britain's Queen Elizabeth II, 85, opened the meeting of leaders of the 54 states of the Commonwealth, home to a third of the world's population and five of the G20 leading economies, but struggling to make much impact on global policies.
Australian Prime Minister Julia Gillard told reporters that the leaders had backed an internal report calling for a more proactive stance in defending human rights.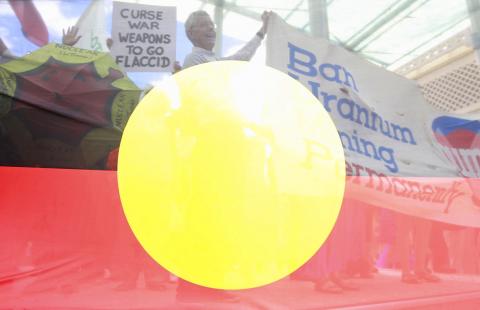 Protesters stand behind the Australian Aboriginal flag as they shout slogans against the Commonwealth Heads of Government Meeting during a protest in central Perth, Australia, yesterday.
Photo: Reuters
"That report and all of its reform proposals and recommendations, has been adopted ... It means that this meeting has already acted to embrace reform and strengthening of the Commonwealth," she said.
"The purpose of these reform proposals is to enable the Commonwealth to act when a country is veering off course in terms of democratic values and the rule of law, rather than waiting until a country has gone to a grossly unacceptable stage, and leaders only having the option of suspension or expulsion in front of them," she said.
No country has ever been expelled from the Commonwealth, though some have been suspended following military coups.
The leadup to the summit has been dominated by pressure to take a stronger line on human and political rights abuses.
The summit still has to grapple with a more contentious "eminent persons" report, which warns that without a much tougher stand, the Commonwealth could slide into irrelevance.
A key suggestion in the confidential report is for the group to establish a human rights commissioner — something some members oppose.
Much of the debate has focused on Sri Lanka and international demands that it allow an independent inquiry into accusations of war crimes during its 25-year civil war, especially in its final months in 2009.
Sri Lanka says it will wait for the results of its own investigation next month, calling the pressure over human rights a propaganda war waged by the defeated Tamil Tigers.
"Today, Commonwealth leaders are faced with a choice — reform the Commonwealth so that it can effectively address human rights violations by its members, or risk becoming irrelevant," Amnesty International's Asia-Pacific deputy director Madhu Malhotra said.
Aborigines cleansed the opening ceremony by waving smoke from burning grass over leaders as they arrived. Local Noongar Aborigines welcomed the leaders to their traditional homeland.
In a stark reminder of the clash of cultures, Aborigines refer to British white settlement of Australia as the invasion.
Smaller countries within the group, many at risk from the effects of global warming, are pressing for a strong statement ahead of next month's international summit of climate change in the South African city of Durban.
There have also been calls on leaders to help end the practice of child brides. Twelve of the 20 countries with the highest rates of child brides are in the Commonwealth.
Comments will be moderated. Keep comments relevant to the article. Remarks containing abusive and obscene language, personal attacks of any kind or promotion will be removed and the user banned. Final decision will be at the discretion of the Taipei Times.