Youth deserts old guard in Seoul mayoral election
ANGRY 2040: The city's voters aged between 20 and 40 expressed their dissatisfaction with conservative rule at the ballot box, resulting in a surprise winner
The victory by an independent in Seoul's mayoral race dealt a big blow both to the ruling conservatives and the whole political establishment before national elections next year, commentators said yesterday.
Civic activist Park Won-soon won an unexpectedly large victory over Na Kyung-won of the ruling Grand National Party (GNP) in Wednesday's vote.
The political outsider secured 53.3 percent to Na's 46.3 percent, an experienced and high-profile politician, in a vote seen as reflecting growing disenchantment with party politics among younger electors.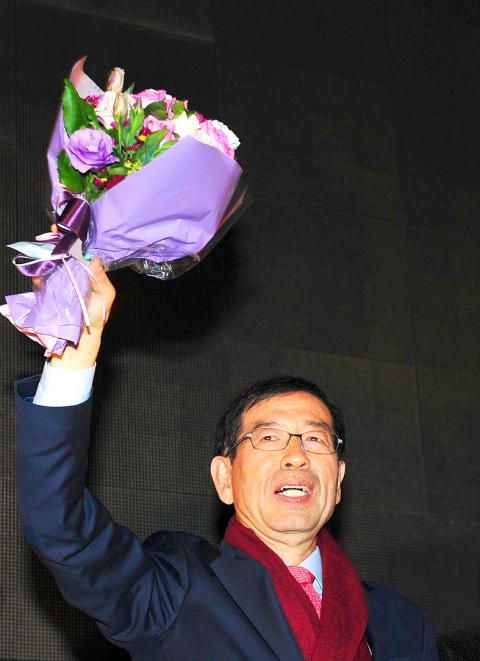 Civic activist Park Won-soon waves a bouquet to supporters as he celebrates his victory in the Seoul mayoral election in Seoul plaza, South Korea, yesterday.
Photo: AFP
Park, a one-time student activist heavily supported by voters aged under 50, is the first person to win the Seoul mayoral election with no party affiliation.
He was backed by the left--leaning opposition, but stood as an -independent, sidelining the main opposition Democratic Party in the process. The city of 10.4 million holds almost a quarter of the country's population.
"Angry 2040 have impeached political status quo," read the headline in Dong-A Ilbo, referring to those aged in their 20s to 40s.
The setback has dented the GNP's hopes of retaining its large parliamentary majority in a legislative election in April.
It also holds the presidency, but incumbent Lee Myung-bak is constitutionally barred from standing again in December next year.
Lee said yesterday he takes the GNP's defeat to heart, adding that he would "keep deeply in mind the will the young generation showed in this election."
Social networks played a major role in one of the world's most wired nations. Young voters including celebrities posted tens of thousands of messages of support for Park on sites like Twitter, urging peers to vote and to post photographs of themselves at polling stations.
Exit polls showed about 70 percent of those aged under 50 supported Park, while Na got more backing from older voters and richer residents.
"Citizens won against power and their voting defeated the old era. Common sense and principle prevailed," Park, 55, said on his Twitter account.
Analysts said economic woes, a widening income gap, high college tuition fees and rising youth unemployment triggered the revolt by frustrated young voters.
"Young voters, although they make up a large part of the population, feel that there is no party to represent their interests and suffering," Yoon Pyung-joong, Hanshin University professor of political philosophy, told Dong-A.
The mayoral vote was also a proxy battle between two top potential contenders in next year's presidential election.
Ahn Cheol-soo, a software -mogul who became an overnight political sensation when he expressed interest in running for mayor, later bowed out and gave his backing to Park.
Supporting Na was Park Geun-hye, long seen as the GNP front-runner next year and once dubbed the "queen of elections" for her campaigning skills. She now faces an uphill battle to shore up support, Dong-A said in an editorial.
"If the GNP can't win the hearts of those aged in the 20s and 40s, that will mean they are completely doomed at elections next year," the editorial said.
Comments will be moderated. Keep comments relevant to the article. Remarks containing abusive and obscene language, personal attacks of any kind or promotion will be removed and the user banned. Final decision will be at the discretion of the Taipei Times.