Clinton warns Central Asia on crackdown
BACK-UP PLAN: The trip was Clinton's second to the region in less than a year as the US seeks to build ties for alternative Afghan supply routes as links with Pakistan sour
US Secretary of State Hillary Rodham Clinton warned Tajikistan and Uzbekistan on Saturday that efforts to crack down on religious freedom might backfire.
She said this could lead to increased sympathy for radical views in Central Asia, a region the US sees as key to the future stability of Afghanistan.
Clinton met Tajik President Imomali Rakhmon and Uzbek President Islam Karimov to thank the two Central Asian states for their cooperation in the US-led war in neighboring Afghanistan.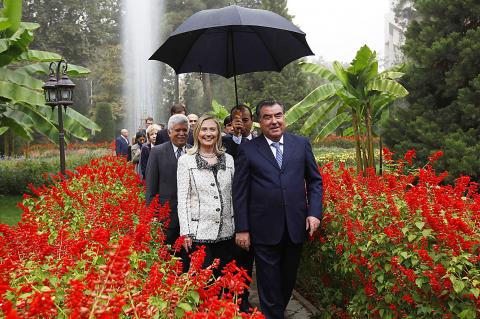 US Secretary of State Hillary Rodham Clinton walks with Tajik President Emomali Rahmon in the gardens at the Palace of the Nation in Dushanbe, Tajikistan, on Saturday.
Photo: Reuters
She stressed to both that freedom of religious expression was tied to the region's future security, US officials said.
"I disagree with restrictions on religious freedom and shared those concerns," Clinton told a news conference after meeting Rakhmon in Dushanbe on the last full day of her latest overseas trip.
She said efforts to regulate religion "could push legitimate religious expression underground and that could build up a lot of unrest and discontent."
Clinton's visit to the two former Soviet republics came after a trip to Afghanistan and Pakistan that was focused on US efforts to find a political solution to the decade-long Afghan conflict.
She also promoted greater regional economic integration under a plan US officials have dubbed "the New Silk Road."
Karimov and Rakhmon have moved to limit religious freedom in their countries, which remain under authoritarian rule two decades after the break-up of the Soviet Union.
Tajikistan, a mainly Muslim country of 7.5 million people, introduced laws in August to ban youths from praying in mosques, churches and other religious sites, a move that was criticized by religious leaders.
Rakhmon, in power since 1992, has said tough measures are needed to stop the spread of religious fundamentalism in an impoverished country that shares a porous 1,340km border with Afghanistan.
"You have to look at the consequences," Clinton said in Tajikistan. "We would hope there would be a rethinking of any restrictions going forward, because we think it will increase sympathy for extremist views which would in turn threaten the stability and security of the country."
Rakhmon's Moscow-backed secular government clashed with the Islamist opposition during a 1992 to 1997 civil war, in which tens of thousands of people were killed.
The president has ignored previous requests from the West to respect freedom of conscience. He has ordered students home from religious schools abroad and clamped down on a growing trend for Islamic dress.
US officials said Clinton also raised the issue with Karimov — widely seen as one of the most repressive leaders in the region — as one of a number of human rights concerns that also include press freedom, human trafficking and political reforms.
Karimov, who has said he intends to implement reforms, repeated these pledges to Clinton, one US official said.
"He said that he wants to leave a legacy for both his kids and his grandchildren," the official said. "The secretary welcomed that and said that would help to build a long-term foundation for Uzbekistan, but also for our cooperation."
US officials said Clinton's Central Asian trip, her second to the region in less than 12 months, was aimed in a large part at thanking Tajikistan and Uzbekistan for their assistance with the Afghan conflict.
They said she also wanted to broaden a relationship that has given the US an important "back door" into Afghanistan and an alternative supply route that could prove vital if US ties with its main ally in the region, Pakistan, unravel.
Tajikistan and Uzbekistan are part of what Washington calls the Northern Distribution Network (NDN), a supply line for US-led forces fighting the Taliban that also stretches through Russia, Latvia, Georgia, Azerbaijan and Kazakhstan.
The NDN is increasingly important as US ties with Pakistan come under strain over Washington's charges that elements of the Pakistani government have links to Islamist militants blamed for attacks on US forces in Afghanistan.
The US is aiming to reduce the proportion of its surface cargo that it brings through Pakistan to only a quarter by increasing its supplies through the northern route; in July it was still well over half.
Comments will be moderated. Keep comments relevant to the article. Remarks containing abusive and obscene language, personal attacks of any kind or promotion will be removed and the user banned. Final decision will be at the discretion of the Taipei Times.