No Qaddafi post-mortem, Misrata commanders say
REAL DEAL? A fighter from Benghazi claimed in a Web posting that he had captured Muammar Qaddafi and fatally wounded him with gunshots to his armpit and head
Military commanders in the city of Misrata said yesterday that no post-mortem would be carried out on the body of former Libyan leader Muammar Qaddafi despite concerns over how the ousted strongman died.
"There will be no post-mortem today, nor any day," Misrata military council spokesman Fathi al-Bashaagha said. "No one is going to open up his body."
His comments were confirmed by two other Misrata military commanders.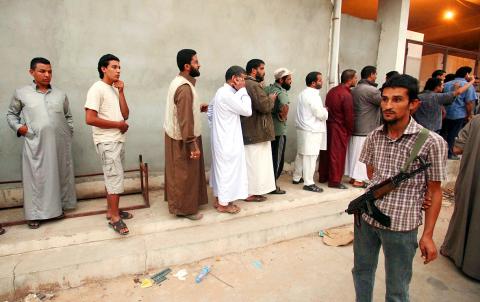 Libyans line up to view the body of former Libyan leader Muammar Qaddafi inside a storage freezer on the outskirts of Misrata, Libya, on Friday.
Photo: EPA
Bashaagha said the new regime's military commander for the capital, Abdelhakim Belhaj, was expected to travel to Misrata later yesterday to view the corpse of the man who ruled Libya with an iron rod for 42 years.
However, he said there were no immediate plan for National Transitional Council chief Mustafa Abdel Jalil to visit.
"Abdel Jajil did not come yesterday and is not coming today, and for the moment it is not expected that he will come," Bashaagha said.
Qaddafi's body has been stored in a freezer in a Misrata market since it was brought to the city on Thursday following his death in still unexplained circumstances during the fall of his hometown Sirte.
Overnight, the body of Qaddafi's son and national security chief, al-Mutassim Billah, who also died during the fall of Sirte, was brought to the same makeshift mortuary and laid out beside him.
Dozens of curious Misrata residents lined up yesterday morning to view the two bloodied bodies laid out on mattresses on the floor.
Abdel Jalil, however, told reporters in Benghazi that Qaddafi's death was being investigated without any reference to a post-mortem examination.
"Yes," he answered when asked if the case was being investigated.
He declined to take any further questions during a visit to injured fighters in a hospital.
Meanwhile, despite the confusion over the circumstances in which Qaddafi was killed, a picture of the events is emerging. Faced with suspicions of an execution by a lynch mob, the order that "nobody here killed Qaddafi" has gone around to the fighters who captured alive the former strongman.
Omran Shaaban, 21, said he was the first to locate the man who ruled Libya for four decades in a concrete drainage pipe.
"When I saw him, I couldn't talk, I couldn't think. I thought: 'That's it, Qaddafi is finished,'" he said.
Ahmed Gazal, a comrade, said they had just arrived to join a final assault on Sirte when they ran into a group of survivors from a NATO air strike on a convoy of pro-Qaddafi fighters trying to make an escape.
After a brief exchange of gunfire, they were informed of Qaddafi's hiding place in the pipe.
"Omran was close to Qaddafi. He grabbed him first, then I said Allahu Akbar [God is great] and I took his legs outside ... When he came out of the pipe, he said: 'What's going on, what's happening?'" Gazal said.
"When I was face to face with him, I thought about all his crimes. I thought he was a big character, but in fact he was just a small mouse," he said, adding that Qaddafi was bloodied and weak when found.
In the mobile footage, Qaddafi is seen being manhandled by a group of fighters as he is dragged off to the pickup. Shaaban said he was then taken to an ambulance for transfer to Misrata.
A young fighter from the rebel bastion of Benghazi claimed in a video posted on the Internet on Friday that he had captured Qaddafi and shot him twice, fatally wounding him.
"I fired two bullets at him. One hit under his armpit, the other his head. He did not die immediately. It took him half an hour," said the youth, identified as Sanad al-Sadek al-Ureibi.
Comments will be moderated. Keep comments relevant to the article. Remarks containing abusive and obscene language, personal attacks of any kind or promotion will be removed and the user banned. Final decision will be at the discretion of the Taipei Times.