FEATURE:Iraqi beauty salons open, but qualified staff hard to find
Unheard of during the reign of former Iraqi dictator Saddam Hussein and unthinkable during years of violence, an unlikely innovation is slowly being rolled out in Baghdad by Iraqis back from overseas: the one-stop beauty center.
Three decades of instability — from wars with Iran, Kuwait and the US-led invasion, to 13 years of sanctions and embargo, and a sectarian war in which thousands died — all but ruled out leisure activities for women, including trips to a beauty salon.
However, Ali Bulbul, armed with over 30 years' experience doing makeup for television broadcasters, is determined to change all that.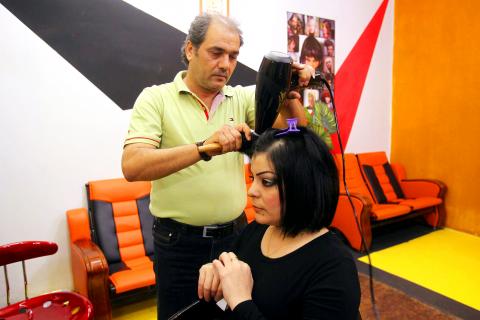 A woman gets her hair done at a newly opened beauty and fitness center in Baghdad, Iraq, on Sept. 29.
Photo: AFP
The 51-year-old left the country in 1990, after Hussein invaded neighboring Kuwait. Having returned for good in 2005, he began working again as a makeup artist for Iraqi television channels and still works for state broadcaster Iraqiya TV.
Early last month, he and an associate opened Specialized Beauty Center on Abu Nawas street along the Tigris river in the center of Baghdad. It is there that Bulbul aims to offer a single-point attraction for the city's privileged upper classes.
The center features skincare and body treatments, a sauna and jacuzzi, yoga and aerobic classes, the last two of which are virtually unprecedented in Iraq.
In addition, there is a gym outfitted with shining, new exercise equipment and a weight loss center, nail salon, tattoo parlor and a makeup and hair salon.
Unusually in Iraq, the center makes prolific use of technological devices, to the point where the dozens of machines that await clients are often intimidating to them, Bulbul said.
He has been relying largely on word-of-mouth advertising, but has also distributed flyers in the neighborhood around the center.
For now, the handful of clients are mostly housewives, but men also attend on the two days a week reserved exclusively for male customers.
"We are more comfortable now," said Farah Saad, a 27-year-old mother of two. "We can go out and wear anything we want — we used to put on scarves, but not now. We are exploring life more and more."
A pre-wedding hair and make-up session costs US$300, while a subscription to the center's gym and jacuzzi is US$100 a month, both of which are expensive in a country where the official rate of poverty is 23 percent.
Bulbul wants to expand the center to include a swimming pool.
He said that while he could have stayed overseas he preferred instead to return to his homeland.
"Iraqis are always homesick," Bulbul said. "The social ties here are very strong. "I always had the idea of opening a wellness center in Baghdad, both before and after the fall of the [Saddam] regime, but I had to delay the idea because of the bad security situation."
During the insurgency and sectarian war that raged across Iraq in the years following the US-led 2003 invasion, tens of thousands of people were killed.
Religious extremists in particular targeted hairdressers, most of whom closed their shops in fear. Women, few of whom were veiled before 2003, were suddenly forced to cover their skin and stay at home.
Violence has dropped dramatically since that period, but attacks are still common and Baghdad remains one of the world's most dangerous cities.
Janna al-Baaj, who runs the part of the wellness center dedicated to hair and makeup, fled Iraq in 2006, initially for Jordan and then other countries in the region, after receiving death threats.
She came back earlier this year after Bulbul told her about his plans and offered her a job, but her daughter is still living in Syria.
"I think the security situation has changed tremendously," the 40-year-old said. "I decided to return to work in my country, despite all the difficulties. Iraqi women are eager to live — through our work, we will try to create beauty even among those who lack it."
"We have a lot of demand for what we do, because there of the lack of such centers in the country," Bulbul said, but noted that finding qualified employees for his salon was proving difficult. "We are in contact with experts who left the country because of threats against them, and are trying to bring them back to work here."
Comments will be moderated. Keep comments relevant to the article. Remarks containing abusive and obscene language, personal attacks of any kind or promotion will be removed and the user banned. Final decision will be at the discretion of the Taipei Times.