China leaders' meeting to ponder big choices
China's top leaders convene for their latest secretive conclave today, giving them a chance to ponder looming economic and political choices ahead of leadership changes in the world's second-largest economy.
This year, the five-day annual meeting of the Chinese Communist Party (CCP) Central Committee will ostensibly focus on enlivening the nation's "cultural system": its state-run publishers, performance troupes and broadcasters struggling to balance the pull of the marketplace with the dictates of propaganda.
However, the gathering will give central and provincial leaders a chance to discuss clouds gathering over China's economy, and the delicate politics of choosing a new leadership to take over when President Hu Jintao (胡錦濤) and Premier Wen Jiabao (溫家寶) step down after the party congress next year.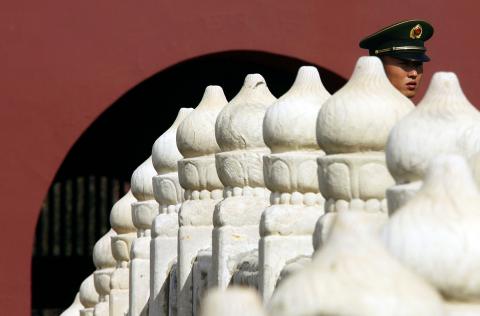 A paramilitary policeman stands guard on the Jinshui Bridge in front of Tiananmen, in Beijing, China, yesterday.
Photo: Reuters
The central committee plenum will bring together about 370 officials — more than 200 of them full committee members, the rest auxiliary members — and it usually gathers at the walled-off Jingxi Hotel in west Beijing.
The government does not disclose details of what transpires at such meetings, and usually issues a vague summary of the outcomes after they end, allowing only guesses on the directions being mapped out.
In China, power resides in the party elite, and meetings of the CCP's Central Committee are chances for powerful provincial chieftains to push their agendas and lobby for promotions for themselves or proteges.
"These plenums always have a theme or excuse to meet, and this year it's culture, but that's also an excuse, or front, allowing the leaders to meet and discuss other issues," said Chen Ziming (陳子明), a Beijing-based political analyst who was imprisoned after 1989 protests for advocating democratic change. "Whatever the theme, Hu Jintao or whoever has the opportunity to depart from the theme and explore other issues."
However, China's top-down decisionmaking usually works in increments, and it is early for leaders to make big leaps in economics or politics, analysts said. When it ends on Tuesday, this meeting could emit rumblings of changes to come, but not thunderbolts of instant change.
Additionally, the advent of leadership changes makes officials even more cautious, discouraging them from policy gambles that could damage their prospects.
"I think that at this level a lot of things are quite uncertain because it's really up the top leaders to negotiate who should stay, who gets promoted and who is not. I think this part is not clear," said Bo Zhiyue (薄智躍), a political scientist at the National University of Singapore's East Asian Institute, referring to the leadership to succeed Hu and Wen.
Although Chinese Vice President Xi Jinping (習近平) and Vice Premier Li Keqiang (李克強) are the front-runners to succeed Hu and Wen respectively, the membership of the rest of the next standing committee, the party's leading core, will be settled only in the coming year through complicated give-and-take, Bo said.
"Gradually, they are going to narrow it down to two or maybe one long list of candidates for the 18th central committee. But for the top leadership — the politburo members and the politburo standing committee members — it is really up to, more or less, bargaining among the elites," Bo said.
The 18th central committee will be chosen at the party congress due to convene late next year, succeeding the current, 17th Central Committee.
Potential contenders for top positions who will gather in Beijing include: Bo Xilai (薄熙來), the charismatic boss of Chongqing, who has promoted an ambitious program to narrow economic inequalities; Wang Yang (汪洋), the boss of export-driven Guangdong Province, who has cast himself as a more liberal leader; and Yu Zhengsheng (俞正聲), the boss of Shanghai.
Comments will be moderated. Keep comments relevant to the article. Remarks containing abusive and obscene language, personal attacks of any kind or promotion will be removed and the user banned. Final decision will be at the discretion of the Taipei Times.