Bangkok's neighbors carry flood burden
HARD RAIN: Huge efforts are under way to stop the waters reaching Bangkok, while millions elsewhere have seen their homes or livelihoods damaged by the floods
As Thailand battles to keep its worst floods in decades from swamping Bangkok, anger is growing among residents upriver who say their homes are being sacrificed to keep the capital dry.
"I pay the same tax as the people in Bangkok, why didn't they think of me too?" said a teary-eyed Wanpen Rittisarn, standing knee-deep in brown water in the center of Bang Pahan, about 100km north of the capital.
The 41-year-old said she had to abandon her home after it was inundated by 2m of water, seeking the relative safety of the nearby town, which has now also been overrun by floodwaters.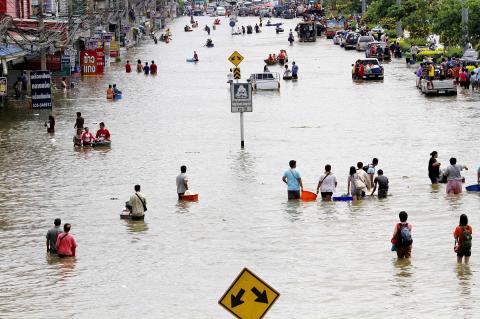 Residents walk through flooded streets in Ayutthaya Province, about 100km north of Bangkok, yesterday.
Photo: Reuters
"I'm having a hard time here. Who will care for me?" she said.
More than 250 Thais have died after two months of heavy rainfall which have inundated large swathes of the country and hit provinces on the northern outskirts of the capital particularly hard.
Huge efforts are under way to stop the waters from reaching low-lying Bangkok, home to 12 million people, prompting pleas from some residents north of the city for sluice gates to be raised to release floodwater.
However, Thai Prime Minister Yingluck Shinawatra warned in a nationally televised address on Friday that the country faced a deepening crisis and the floods would "directly affect Bangkok."
The authorities have defended their emphasis on the capital at a time when millions of people elsewhere have seen their homes or livelihoods damaged by the floods, which have hit three-quarters of the country.
"Bangkok is the heart of Thailand and is the heart of our economy," said a disaster prevention official who asked not to be named.
Walls of sandbags have been erected along the Chao Phraya river that flows through the city. Boats, their engines running, are also being used to help push the excess water out to sea.
Thanks to a complex irrigation system of canals and reservoirs, the authorities have been able to divert rain water away from the capital to "empty agricultural land."
"We are not trying to overprotect Bangkok to give the burden to others," the official insisted, but "we try to avoid an influx of a huge amount of flood [water] that could ruin our whole economy."
Already economists at the University of the Thai Chamber of Commerce estimate that the floods have caused damage of 104 billion baht (US$3.4 billion) and will curb annual economic output by about 1 percent.
The annual monsoon floods are causing more material fallout with each passing year, according to the International Strategy for Disaster Reduction, a UN body.
Houses and crops have been destroyed, schools and hospitals ruined and tens of thousands of families displaced, not only in Thailand, but also in Cambodia, Vietnam and Laos.
Uncontrolled urbanization is at least partly to blame, Hang Thi Thanh Pham, UNISDR program officer for Southeast Asia, told reporters.
"The linkage between rising disaster risks and poorly governed urbanization is obvious," she said. "More and more people are settling in flood-prone zones and high population density is a risk driver where the quality of housing, infrastructure and services is poor."
Governments in the region have taken steps to limit flood damage through a range of initiatives, such as building dams and dykes and using early warning systems.
However, "it has been proven that our preparation measures and prevention methods that we have been using in the past decade are not enough," the Thai disaster official said, calling for a more regional approach to prevention efforts.
"We have to focus more on investment in prevention measures to prepare for incoming disasters because we can't reorganize or replan the whole country," the official said.
Bangkok, which is located on the gradually sinking Chao Phraya delta, has been classified by the Organisation for Economic Co-operation and Development as one of the cities most at risk from coastal flooding by 2070.
A key test for the authorities is expected later this month when large amounts of run-off water reaches the capital and high tides make it harder for the floods to flow out to sea. More storms are also expected.
"Every canal in Bangkok is already at full capacity. If more rain comes it's likely that Bangkok will be inundated," Bangkok Governor Sukhumbhand Paribatra said.
Comments will be moderated. Keep comments relevant to the article. Remarks containing abusive and obscene language, personal attacks of any kind or promotion will be removed and the user banned. Final decision will be at the discretion of the Taipei Times.