Dominique Strauss-Kahn regrets his 'moral failing'
NO VIOLENCE: Strauss-Kahn insists he didn't force himself on either the hotel maid in New York or a French journalist who have accused him of rape and attempted rape
Dominique Strauss-Kahn has broken his silence four months after a New York hotel maid accused him of sexual assault, calling his encounter with the woman a "moral failing" he deeply regrets, but insisting in an interview on French television that no violence was involved.
Strauss-Kahn, the former managing director of the IMF and a one-time top French presidential contender, also denied using violence against a French writer who claims he tried to rape her in a separate 2003 incident.
Throughout what appeared to be a heavily scripted 20-minute-long interview with Claire Chazal, who is a friend of his wife, on French broadcaster TF1 on Sunday, Strauss-Kahn managed to come off as contrite even as he insisted he hadn't forced himself on either of the women.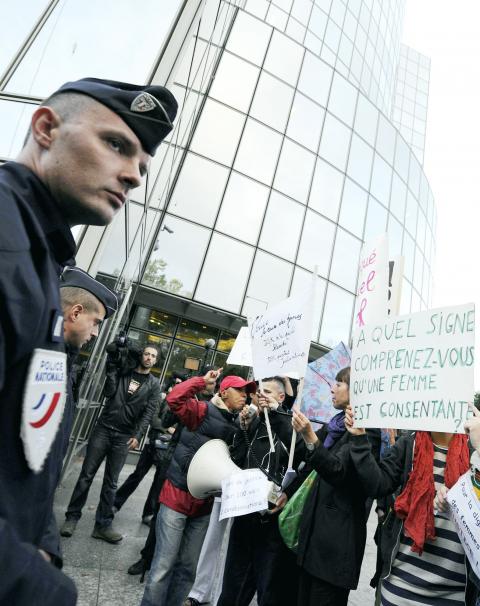 Women's rights activists stage a protest outside the TF1 television studios before the appearance of former IMF managing director Dominique Strauss-Kahn on its prime time news program in Boulogne-Billancourt, France, on Sunday.
Photo: Reuters
Strauss-Kahn adopted a combative tone, but regretful words, trying to rescue his reputation while writing off his immediate political prospects.
"What happened involved neither violence nor constraint: no criminal act," he told Chazal sternly when asked what had happened in Sofitel Manhattan's suite 2806 on May 14, shortly before his arrest on sex assault charges.
He said his May 14 sexual encounter with Nafissatou Diallo, an African immigrant who claimed that he attacked her when she entered his room in Manhattan's Sofitel hotel to clean it, "did not involve violence, constraint or aggression."
Still, he acknowledged, it "was a moral failing and I am not proud of it. I regret it infinitely. I have regretted it everyday for the past four months and I think I'm not done regretting it.
It "was not only an inappropriate relationship, but more than that, it was a failing ... a failing vis-a-vis my wife, my children and my friends, but also a failing vis-a-vis the French people, who had vested their hopes for change in me," he said.
Strauss-Kahn resigned from the IMF's top job in the wake of the scandal. Though he didn't rule out a future return to politics, the man once widely regarded as the Socialist party's best hope at beating French President Nicolas Sarkozy said he needed to take time to think about his future.
Strauss-Kahn, who had a long-standing reputation as a man with a weakness for sex and women, said the Diallo imbroglio had profoundly changed him.
"I've seen the pain that I caused around me and I thought, I thought a lot," he said. "That lightness, I've lost it for good."
The interview was more than an extended mea culpa, though. Strauss-Kahn lashed out both at Diallo and, more broadly, at the US justice system, which by allowing him to be paraded handcuffed before cameras he said had irreparably tarnished his image.
"When you are snatched up by the jaws of that machine, you have the impression that it can crush you," he said. "I felt that I was trampled on, humiliated, even before I had the chance to say a word."
Under French law, it's illegal to show suspects in handcuffs.
Strauss-Kahn said the New York prosecutor — who dropped all criminal charges against him in the Diallo case last month — had concluded the maid "lied about everything.
"Not only about her past, that's of no importance, but also about what happened. The [prosecutor's] report says, it's written there, that 'she presented so many different versions of what happened that I can't believe a word,'" he said.
He added he suspected financial motives might have been behind Diallo's accusations. She has filed a lawsuit against him, but Strauss-Kahn insisted on Sunday he wouldn't negotiate a settlement.
He also proclaimed his innocence in a separate legal battle pitting him against a young French writer and journalist who alleges he tried to rape her during a 2003 interview for a book she was writing.
Because a police investigation into the claims is ongoing, Strauss-Kahn declined to say anything more about the matter. If Paris prosecutors decide to pursue the case, Strauss-Kahn could face a possible trial.
Comments will be moderated. Keep comments relevant to the article. Remarks containing abusive and obscene language, personal attacks of any kind or promotion will be removed and the user banned. Final decision will be at the discretion of the Taipei Times.