US looks for signals from N Korea on nuclear issue
US officials were looking for concrete signs that nuclear-armed North Korea is willing to take "irreversible steps" to give up its nuclear weapons programs as the two sides headed into a second day of talks yesterday.
Stephen Bosworth, the US' top envoy on North Korean affairs, and North Korean Vice Foreign Minister Kim Kye-gwan remained silent after meeting behind closed doors on Thursday at the US mission to the UN for a total of about five hours.
The US Department of State called the talks "serious and business-like" and said in a statement they were to resume yesterday morning.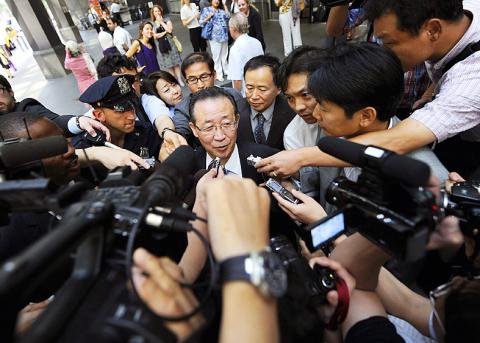 North Korean Vice Foreign Minister Kim Kye-gwan talks to the media as leaves his hotel to meet with Stephen Bosworth, the US' top envoy on North Korean affairs, at the US mission to the UN in New York on Thursday.
Photo: AFP
The US wants to determine if North Korea is ready to fulfill its commitments under a 2005 joint declaration requiring the North to abandon all nuclear weapons programs and allow the return of international weapons inspectors. In exchange, Pyongyang would get better relations with its Asian neighbors, energy assistance and a pledge from Washington that its troops will not attack the North.
The statement said that Washington wants to see a willingness from the North "to take concrete and irreversible steps."
"They've been down this road before and it's a chance for us to gauge their seriousness," department spokesman Mark Toner said earlier on Thursday. "What we're looking for is a concrete indication that they're going to move forward."
Bosworth greeted Kim at the entrance to the US mission in the shadow of the UN headquarters complex when he arrived with his delegation on Thursday morning. They smiled and shook hands before a throng of photographers, cameramen and reporters.
Ri Gun, the director-general of the North Korean Foreign Ministry's North American Affairs Bureau, when asked whether he was optimistic about the meeting, replied: "I'm not sure yet."
Scott Snyder, a Washington-based specialist for the Council on Foreign Relations, said there is much skepticism about the sincerity of the North Koreans, who have conducted a second nuclear test and revealed a uranium enrichment facility that could give it another way to make atomic bombs since the last talks in 2008.
Nevertheless, Snyder said the talks are "significant, in that it is the first time in a while to exchange views directly."
Former US ambassador to the UN John Bolton, now at the conservative American Enterprise Institute, was pessimistic.
"I think these talks are pointless," he said. "There is simply no evidence and there hasn't been for 10 years that the North Koreans are really prepared to give up their nuclear weapons program. They have used negotiations to buy time, to buy legitimacy, and to extract tangible assistance from the United States."
"In return, the United States has gotten nothing. So I'm not optimistic," Bolton added.
Comments will be moderated. Keep comments relevant to the article. Remarks containing abusive and obscene language, personal attacks of any kind or promotion will be removed and the user banned. Final decision will be at the discretion of the Taipei Times.