US soldier held for 'terror plot' aimed at army base
GUNS GALORE: Naser Jason Abdo is reported to have gone to the same gun shop that sold weapons to the alleged perpetrator of a 2009 rampage at Fort Hood
Texas police arrested a US soldier on Thursday mounting what they called a "terror plot" against Fort Hood, the military base where a fellow serviceman went on a deadly shooting rampage in 2009.
US Army Private Naser Jason Abdo, who gave several television interviews last year saying he was a Muslim who opposed deployment to Afghanistan, became the target of suspicion after a gun shop owner noticed his unusual purchases of weapons and tipped off police.
Police tracked down the 21-year-old to a motel near Fort Hood and arrested him on Wednesday afternoon, police said. A Texas native, Abdo served at Fort Campbell in Kentucky, but had deserted since July 4. He had gone AWOL since early this month after being charged with possessing child pornography.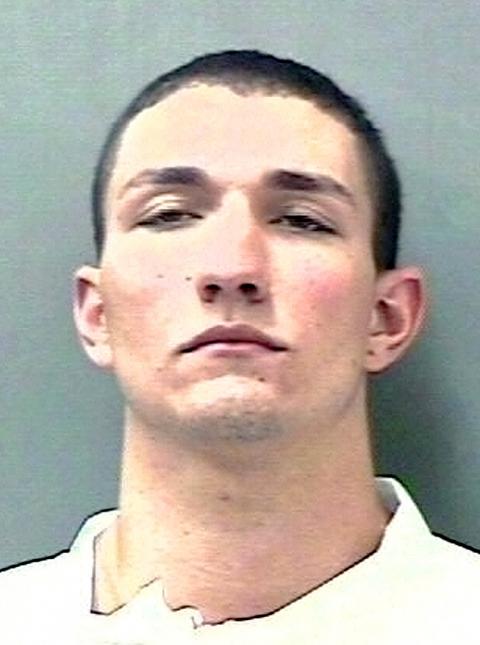 US Army soldier Naser Jason Abdo, 21, is pictured in a police booking photograph released on Thursday.
Photo: Reuters
"I would classify this as a terror plot," said Dennis Baldwin, the police chief of Killeen, Texas, located next to Fort Hood.
"We have interviewed him and the information as a result of the interview and other leads ... leads us to believe that military personnel were targeted," Baldwin told reporters, adding that the suspect acted alone. "I can tell you that we would probably be here today giving you a different briefing if he had not been stopped."
He called the suspect "very dangerous" and added he had only been in Killeen for a "relatively short period of time."
US federal charges were expected to be filed.
In an interview with al-Jazeera last year, Abdo said he had asked for permission not to deploy to Afghanistan as a conscientious objector because he did not want to fight fellow Muslims. The network said he was of Palestinian descent.
"I can't both deploy and be a Muslim," Abdo said in that interview.
He was subsequently granted his request to avoid deployment to Afghanistan.
Speaking to CNN's sister network HLN in August last year, he said: "I was under the impression that I could serve both the US Army and my God simultaneously."
Fort Hood — a major army base home to the III Corps, the First Cavalry Division and the Third Armored Cavalry Regiment — has been on edge since a Nov. 9, 2009 shooting spree by an army psychiatrist.
Major Nidal Hasan, who was set to deploy to Afghanistan, calmly walked into a deployment center and cried "Allahu Akbar" — "God is Great" — before methodically shooting 45 people, most of them soldiers, according to officials.
Twelve soldiers and one civilian died before police stopped Hasan by shooting him four times, paralyzing him from the chest down. Hasan goes on trial March 5 next year and faces the death penalty if convicted. The motive of that shooting remains a matter of dispute. However, investigators allege that Hasan, born in the US of Palestinian heritage, had contact with key al-Qaeda cleric Anwar al-Awlaqi, a US citizen at large in Yemen.
Officials said that Abdo went to the same store, Guns Galore, where Hasan had bought weapons used in the deadly attack.
An employee of the store said he contacted police after Abdo bought gunpowder, shotgun ammunition and a magazine for a semi-automatic handgun.
Greg Ebert, a retired soldier and veteran law enforcement officer, said he grew suspicious after the soldier purchased six canisters of smokeless gunpowder, but asked questions about what it was.
"I'm a retired police officer. I spent my entire adult life observing other human beings and good, bad and otherwise, when that little voice starts talking to me, I pay attention," said Ebert, who retired last year as a Killeen police sergeant in charge of property crimes.
"You're talking about a white male in his 20s, very nondescript, walks in here and wants to purchase six pounds [2.7kg] of gunpowder and then he asks the manager, 'Well, what is smokeless gunpowder?' Wouldn't that raise an issue in your mind?" Ebert said.
The man, who "just seemed to be an odd sort of person" according to Ebert, entered Guns Galore early afternoon on Tuesday in a cab and appeared to be in a hurry.
He paid US$250 in cash for the gunpowder and ammunition, but did not ask for the change, leaving his receipt on the counter.
Ebert said he sold the gunpowder and weapons despite his suspicions because "it was odd that he didn't have a better understanding of gunpowder, but that by itself doesn't mean he's up to no good. He hadn't done anything illegal, there was nothing unlawful with regard to the sale."
Comments will be moderated. Keep comments relevant to the article. Remarks containing abusive and obscene language, personal attacks of any kind or promotion will be removed and the user banned. Final decision will be at the discretion of the Taipei Times.