Serb mob sets fire to border post
KOSOVO CLASH: Tension has mounted for days between Albanians and Serbs after Kosovar special police units took over two disputed border posts
Polish and US peacekeepers exchanged fire with attackers in northern Kosovo late on Wednesday and fired tear gas to disperse a mob of Serbs attacking an outpost at Kosovo's border post with Serbia, a NATO official said.
The violence erupted hours after Kosovo's special police ended an operation to take control of two borders posts that left one policeman dead.
A mob of about 200 Serbs hurled firebombs and set a customs post ablaze soon after Kosovo police withdrew.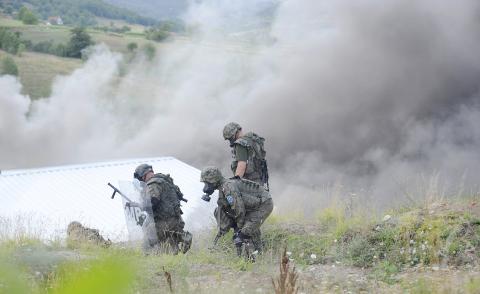 Soldiers from the NATO-led Kosovo Force inspect facilities after masked Serb extremists set fire to a Serbia-Kosovo border crossing in Jarinje on Wednesday.
Photo: Reuters
NATO responded by sending hundreds of troops in an attempt to quell the violence and came under fire as it did so, NATO spokesman Captain Hans Wichter said. No injuries were reported.
"The gate is now clear," Wichter said, but added there was a risk of further attacks on the border post as about 100 demonstrators were close to the checkpoint.
Additional French and US troops were sent to a second post bordering Serbia, also under threat of attack. The violence is a setback for NATO-led efforts to broker a deal that would leave Kosovo officials in charge of the border crossings after special police units and local Serbs remove roadblocks.
NATO's Kosovo commander Major General Erhard Buehler is still talking to both sides in search of a solution, Wichter said.
Video shown on Serbia's state-run RTS television showed masked men demolishing the border post as EU police leapt into cars and evacuated the area. The mobs attacked a crew from the official Serbian Tanjug news agency, seriously injuring one of two cameramen and slightly injuring another.
The attacks follow days of mounting tension between ethnic Albanians and minority Serbs after Kosovar Prime Minister Hashim Thaci ordered special police units to take over two disputed border posts previously manned by Serb members of the police under EU supervision.
Thaci blamed the attack on Serbia's top leaders, saying they want to partition Kosovo along ethnic lines.
"There will be no turning back and Serbia's plan for the division of Kosovo's north will never happen," he said.
Earlier on Wednesday, Kosovar authorities declared the operation over and said special police units withdrew from the area.
EU Kosovo police mission spokesman Nicholas Hawton condemned the attack and appealed for people to remain calm, while Serbian President Boris Tadic also urged an "immediate end" to violence in the north of Kosovo, a statement from his office said.
"[The] hooligans who cause violence are not defending Serbia or the Serbian citizens," Tadic said.
He also called on Kosovar Serbs to remain calm.
The EU has condemned the police action that led to the rise in tensions in Kosovo.
Crowds of Serbs staged a similar attack on the same border posts in 2008 in reaction to Kosovo's declaration of independence.
Comments will be moderated. Keep comments relevant to the article. Remarks containing abusive and obscene language, personal attacks of any kind or promotion will be removed and the user banned. Final decision will be at the discretion of the Taipei Times.