Yemenis rally to demand regime change
A powerful Yemeni tribal leader on Monday warned against attacks on anti-government protesters as hundreds of thousands rallied in the capital Sana'a and several other cities calling for regime change.
Yemen has been gripped by a six-month political crisis, with near daily street protests demanding Yemeni President Ali Abdullah Saleh step down.
Sheik Sadeq al-Ahmar, who in March joined the uprising against Saleh, warned the army not to attack thousands of students camped out close to Sana'a University. A youth group said earlier that the government was preparing to storm the camp.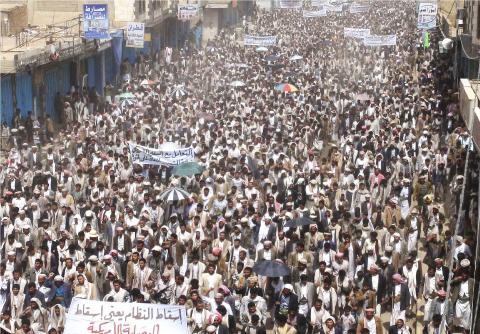 Anti-government protesters march to demand the ouster of Yemeni President Ali Abdullah Saleh in Saada on Monday.
Photo: Reuters/al-Houthi Rebel Group
Meanwhile, a small group of Saleh's supporters, including women and children who live close to the students' camp, demonstrated in front of the presidential palace demanding the camp be emptied out. They carried banners claiming their daily lives have been disrupted by the camp's proximity.
One banner read: "The people want the tents to be moved" — a play on words on the opposition's popular slogan: "The people want the president to leave."
The youth group behind the university protest said on Monday that the government is inciting families who live close to the square where the students are camped out to demonstrate against them.
Comments will be moderated. Keep comments relevant to the article. Remarks containing abusive and obscene language, personal attacks of any kind or promotion will be removed and the user banned. Final decision will be at the discretion of the Taipei Times.