Flower-bearing crowds flood Oslo
SHOW OF SOLIDARITY: Monday's vigil had been planned as a 'flower march,' but so many showed up that authorities decided to keep them in one place
As many as 150,000 people poured onto Oslo's streets on Monday, raising a sea of flower-bearing hands into the air in memory of the 76 victims of last week's twin bombing and shooting attacks.
Norwegian television showed images of similar gatherings taking place in other cities across the country after a call for people to show solidarity with those killed in Friday's bombing and mass shooting.
"Tonight, the streets are filled with love," Norwegian Crown Prince Haakon told the vast crowd massed on the banks of the Norwegian capital's fjord after the car bombing of ministries and the mass shooting of Labor Party youths on Utoeya island.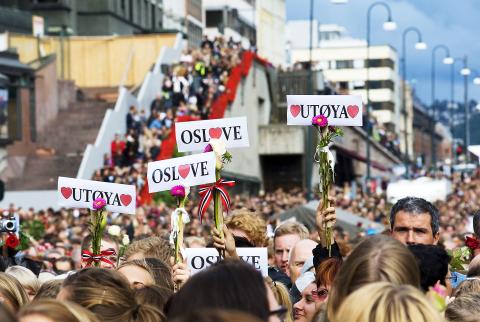 People in Oslo, Norway, hold signs with love for Utoeya and Oslo during a vigil on Monday in memory of the 76 victims of Friday's bombing and shooting rampage.
Photo: AFP
"Those who were in the government district and on Utoeya were targets for terror, but it has affected us all," he said to applause.
Norwegian Prime Minister Jens Stoltenberg then addressed the crowd, in a city of 600,000 people, saying: "Evil can kill a person, but it cannot kill a people."
"We will punish the guilty. The punishment will be more generosity, more tolerance, more democracy," Oslo Mayor Fabian Stang said.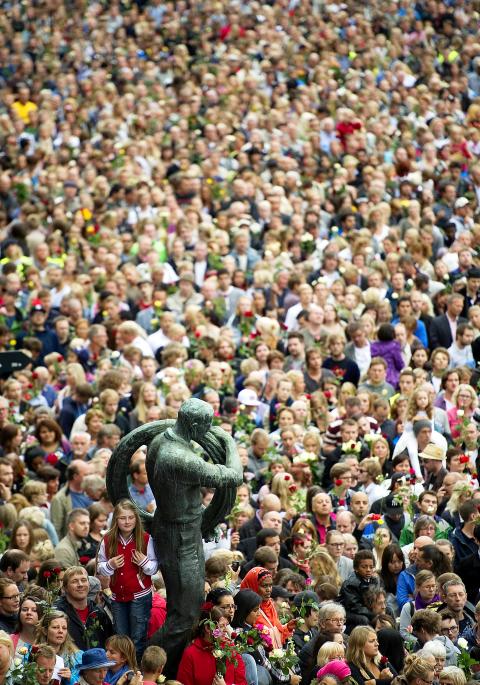 Up to 150,000 people holding flowers gather on Monday evening for a vigil in Oslo, Norway, for the victims of Friday's attacks that killed at least 76 people and injured scores more.
Photo: AFP
Central Oslo streets were closed to traffic because of the vigil, which had originally been planned as a "flower march," but it was decided that people should stay in one place because of the large numbers turning up.
"We came out of solidarity, to all be together and share our pain," Tone Mari Steinmoen, 36, said. "This is a time of important communion for our country."
"We're here to show that we're an open-spirited and respectful society," said Roy Kvatningen, 37, who came with his six-year-old daughter.
"And to support the victims," his friend, Ger, added.
The crowd was united in grief, but there was no visible sign of anger toward the self-confessed perpetrator, Anders Behring Breivik.
"We have no feelings about him. He's not our concern, we're here for our country, for the victims, for their families, not for him," Benedicte Larodd, 26, said.
A police spokeswoman said there was no official estimate for the turnout, but a policeman on the scene said there were about 100,000 people present, while Norwegian media put the figure at 150,000.
In any event, the gathering is the largest in Oslo in living memory.
The crowd repeatedly raised their flower-bearing hands in the air, while a singer sang the Norwegian anti-Nazi hymn For Youth at the end of a short concert.
Comments will be moderated. Keep comments relevant to the article. Remarks containing abusive and obscene language, personal attacks of any kind or promotion will be removed and the user banned. Final decision will be at the discretion of the Taipei Times.