Egyptian foreign minister resigns
TOUGH CROWD: Major General Tarek el-Mahdi of the ruling military council was heckled and booed off the stage as he tried to persuade hunger strikers to get medical attention
Egyptian foreign minister Mohammed al-Orabi resigned as Egyptian Prime Minister Essam Sharaf appointed two deputies in the first steps toward a sweeping Cabinet shuffle aimed at appeasing protesters.
Sharaf, who heads the caretaker government after a revolt toppled former president Hosni Mubarak in February, is expected to unveil a new Cabinet by today that he hopes will end a week-long sit-in in central Cairo.
The announcement of Orabi's resignation on state media came hours after Sharaf appointed veteran economist Hazem Beblawi and Ali al-Silmi, a leader of the liberal Wafd party, as his deputies.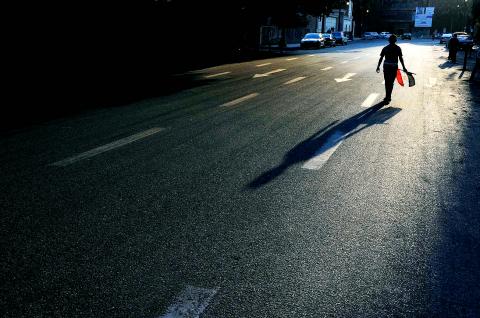 A protester walks with his Egyptian national flag at Tahrir Square in Cairo, Egypt, on Saturday.
Photo: AFP
The ruling military's Supreme Council of the Armed Forces also issued a statement on its Facebook page late on Saturday promising to restrict military trials to cases of rape, assaults on police and armed assaults.
One of the protesters' key demands is an end to military trials of civilians, which have become the norm since Mubarak's ouster.
However, the military's statement also warned that, while it would respect peaceful protests, it would not stand aside if protests damaged government or private property.
Sharaf has come under fire from dissidents who once embraced him for the slow pace of reforms since the revolt and for his limited powers under the military's rule.
Orabi said he submitted his resignation "to spare the prime minister any embarrassment during the current negotiations on the ministerial changes," the state-run MENA news agency reported.
Orabi had filled the post for less then a month, taking over from Nabil al-Arabi, a popular choice who had quit the ministry to head the Arab League.
Despite the announcements, hundreds of protesters who pitched tents in Tahrir Square stayed put, although some protesters suspended a hunger strike after negotiations with military representatives, state media reported.
Official media said up to 15 ministers may be replaced in the new Cabinet, with a focus on those with ties to Mubarak's three-decade rule.
Beblawi, a former undersecretary of the UN's Economic and Social Commission for Western Asia, will oversee economic policy in the new Cabinet, which is expected to be unveiled today, MENA news agency reported.
Silmi will handle "democratic transition" matters, it added. Sharaf, who himself was appointed prime minister after demonstrations persuaded the military to sack Mubarak's Cabinet in March, pledged on Friday that "the new ministerial changes are simply the beginning."
"I am working hard to achieve your aspirations," he wrote on his Facebook page.
Sharaf, who has already ordered the sacking of hundreds of senior interior ministry officers, hopes the new Cabinet will satisfy the activists while helping the country recover economically.
Tensions are also mounting between the military, initially hailed for not siding with Mubarak, and groups that spearheaded the revolt.
On Saturday, a member of the ruling military council was forced to cut short a visit to Tahrir Square after protesters drowned out his speech with booing and anti-military chants.
Major General Tarek el-Mahdi had come to the square to persuade a dozen demonstrators to end a hunger strike they began several days ago, but was forced to cut short his visit because of the heckling.
El-Mahdi later told state TV that he was disappointed that a small crowd of protesters managed to drive him out of the square before he could reach the tent housing the hunger strikers.
"I have failed at my mission," said the general, the first member of the council to visit the tent camp since it was set up by hundreds of protesters more than a week ago.
When el-Mahdi arrived in the square, he was quickly surrounded by activists volunteering as security guards and escorted to a makeshift podium to address the crowd.
"It is important for any revolution that its people live, not die," el-Mahdi said from the stage, saying the hunger strikers should get medical help.
However, he was booed off the stage and some protesters even raised their shoes, a sign of anger and contempt in the Arab world, activist Mahmoud Yehia said.
"He didn't say anything new. He didn't bring us any news," Yehia said.
Protesters were skeptical about el-Mahdi's attempt to reach out.
"He who is burned by soup will blow at the yogurt," said Yehia, using an Egyptian proverb about broken trust. "We won't be fooled again."
Activist Sayed Salem said the protesters were disheartened because they wanted to hear a response to their demands.
"They don't want to chat. They want to hear a statement addressed to them which details what will happen and when," Salem said.
Not all protesters supported driving the military official out of the square, he said.
Comments will be moderated. Keep comments relevant to the article. Remarks containing abusive and obscene language, personal attacks of any kind or promotion will be removed and the user banned. Final decision will be at the discretion of the Taipei Times.