ANALYSIS: Turf war for Afghan south 'could embolden Taliban'
The assassination of the Afghan president's brother may trigger a turf war for control of the country's critical south that could embolden the Taliban and reverse NATO gains, analysts say.
Kandahar — birthplace of the Taliban, home to Afghan President Hamid Karzai's family and scene of some of the war's bloodiest fighting over the course of a decade — is a hotbed of tribal rivalries over local influence and money.
Ahmed Wali Karzai, known by his initials AWK, was the strong man from one of the country's most powerful families, who bound together the region's complex commercial and political networks.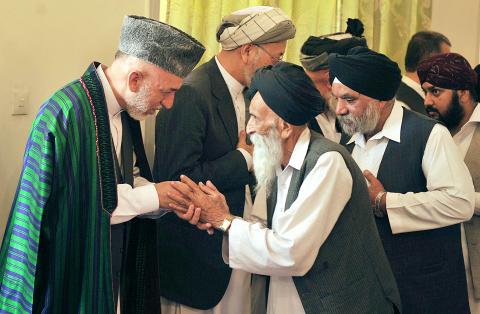 Afghan President Hamid Karzai, left, greets Sikh elders during a funeral ceremony for his late brother, Ahmad Wali Karzai, in Kabul, Afghanistan, on Friday.
Photo: AFP
Accused of being a corrupt authoritarian who ran the drugs trade in the south and controlled private militia, Wali Karzai nevertheless managed an uneasy alliance with US forces thanks to his anti-Taliban credentials.
Now dead — assassinated on Tuesday by a long-time friend and head of his personal protection force — analysts say a power vacuum could emerge and give grist to the Taliban insurgency.
"Ahmed Wali's death could lead to further deterioration in the fragile security situation in Kandahar as the rival tribes compete for power and the Taliban keenly follow developments," said Yunos Fakor, a Kandahar-based analyst.
His killing comes at a critical juncture, just days after 3,000 Canadian troops ended their combat mission in Kandahar and in the same week that Washington started troop drawdowns, a gradual process due to end in late 2014.
"This situation gravely threatens the security gains and achievements made by foreign troops in and around Kandahar," Fakor said.
NATO troops mounted a campaign last year for control of the city, the second-largest in Afghanistan. Although US commanders say progress has been made across the province, they add that they are far from defeating the stubborn insurgency.
There are even fears that families are thinking about fleeing to neighboring provinces and Kabul, worried that the area could erupt in bloody infighting among rival tribes and Taliban attacks could increase.
Kate Clark, a senior analyst at Afghanistan Analysts Network, said that while there were candidates to replace Wali Karzai, none had the individual clout needed to bring relative stability to the province.
"The removal of such a powerful figure may encourage greater plurality — or a fragmentation which makes the province even more insecure," Clark wrote. "There may also be a scrabbling for bits of Ahmad Wali's business and political empire by former friends and rivals."
Hamid Karzai on Wednesday swiftly anointed another brother, Shah Wali Karzai, to replace Wali Karzai as head of the Popalzai tribe, but experts say he is nowehere near as bullish as his predecessor, and while he might protect the family's business interests, he cannot rule the rest.
Wali Karzai's years of favoring the Popalzais fueled resentment among the Barakzai and Alokozai tribes in Kandahar, causing some to join the Taliban as the only effective opposition.
The next "king of Kandahar" would have to do a better job of that, experts say.
"We already see that the other two powerful tribes, the Barakzai and Alokozai, who had been sidelined by AWK before, are looking forward for a bigger role in the province's administration," said Ahmad Shah Spar, who leads a movement advocating good governance in Kandahar.
Wali Karzai was head of the Kandahar provincial council, and though his de facto power was much greater, he had recently made a bid to become governor of Kandahar, with several elders traveling to Kabul to advocate on his behalf.
Many speculate that his demise could bring back former Kandahar governor Gul Agha Sherzai, who was ousted by the president and sent to rule Nangarhar Province in 2004.
Sherzai is a less divisive figure among the tribes, they say.
"Gul Agha Sherzai is regarded as an effective and stabilizing force by many people, or at least he is not as disliked as AWK was," Fakor said. "He is also liked by NATO — many now think that he could be the only and the most appropriate candidate to rule Kandahar, despite -opposition by the Karzai family."
Others say Sherzai is unlikely to return quickly from the east, with the US campaign increasingly focused along the Pakistani border.
"The two tribes — Popalzai and Barakzai — have had an entrenched and protracted conflict against each other for decades, one that will only continue to play itself out," Afghan analyst Khalid Mafton wrote in Foreign Policy magazine. "This in turn will enable the Taliban to take advantage of the confusion and power vacuum to further destabilize security in Kandahar and adjoining provinces like Helmand, where thousands of US troops are stationed."
That could further damage plans to begin handing over parts of the country to the control of Afghan security forces in coming months.
"[President] Karzai seems to have forgotten that the failure in Kandahar means the failure in all Afghanistan," Fakor said.
Comments will be moderated. Keep comments relevant to the article. Remarks containing abusive and obscene language, personal attacks of any kind or promotion will be removed and the user banned. Final decision will be at the discretion of the Taipei Times.