Boy's murder shocks Brooklyn's Hasidic community
An eight-year-old Brooklyn boy who got lost while walking home alone from day camp in his Orthodox Jewish neighborhood was killed and dismembered by a stranger he had asked for directions, police said on Wednesday. His remains were found stuffed in a trash bin and the man's refrigerator.
The gruesome killing of Leiby Kletzky shocked the tight-knit Hasidic community in Borough Park — in part because it is one of the safest sections of the city and because the man under arrest is himself an Orthodox Jew.
A day-and-a-half search for the Hasidic boy ended with the discovery of his severed feet inside a bloody freezer at the home of a man who had been spotted with the child on a surveillance video, a law enforcement official said. The rest of the remains were in the trash in another neighborhood.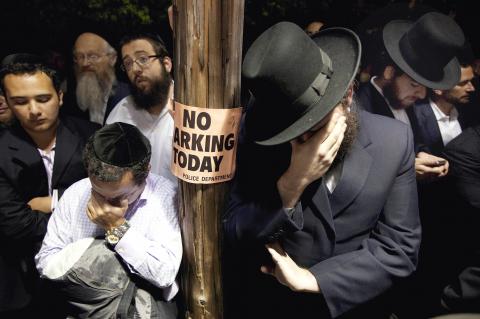 Men weep while listening to the funeral of Leibby Kletzky outside a synagogue in the Brooklyn borough of New York yesterday.
Photo: Reuters
"It is every parent's worst nightmare," Police Commissioner Raymond Kelly said.
The 35-year-old suspect, Levi Aron, implicated himself in the killing, Kelly said.
Police said there was no evidence that the boy had been sexually assaulted, but they would not otherwise shed any light on a motive except to say Aron told them he "panicked" when he saw photos of the missing boy on fliers that were distributed in the neighborhood. Police were looking into whether Aron had a history of mental illness.
Aron was arrested on a charge of second-degree murder. It was not clear whether he had an -attorney. The medical examiner's office said it was still investigating how the boy was killed.
Meanwhile, thousands gathered around a Borough Park synagogue for the boy's funeral service, with speakers broadcasting over a loudspeaker and intermittently breaking down in sobs. They spoke and chanted in Yiddish and Hebrew, stressing the community's resilience and unity after what one called an unnatural death.
"There's no greater pain than this," one said, as translated by a mourner.
The Hasidim are Orthodox Jews who live in somewhat insular neighborhoods. The streets are policed by a group of volunteers known as the Shomrim patrol. Many of the mothers who gathered outside the Kletzky family home on Wednesday said the streets are normally safe enough for a child to walk home alone.
Adel Erps, like other neighbors, expressed shock the suspect was Jewish.
"He's a sick person obviously, but it hurts so much more," she said.
Aron's family was Orthodox, but not Hasidic. He lives about a dozen blocks away from the Kletzky family. When detectives arrived at his attic apartment at about 2:40am, they asked him where the boy was, and he nodded toward the kitchen, Kelly said.
Detectives saw blood on the freezer door and opened it to discover the feet inside, wrapped in plastic bags, according to the law enforcement official, who spoke on condition of anonymity.
Comments will be moderated. Keep comments relevant to the article. Remarks containing abusive and obscene language, personal attacks of any kind or promotion will be removed and the user banned. Final decision will be at the discretion of the Taipei Times.