Castro wishes Chavez well in cancer fight
'CLOSE AND INDESTRUCTIBLE': In Caracas, thousands marched on Sunday to mark the country's bicentennial, but the event quickly turned into a show of support for Chavez
Former Cuban president Fidel Castro ended a more than month long silence to laud Venezuelan President Hugo Chavez's recovery from surgery in Cuba, saying he was confident the Venezuelan leader would win his battle against cancer.
In an essay published late on Sunday, Castro said his country has a "close and indestructible friendship" with Chavez.
"Let's give him the strongest support and confidence," the former Cuban leader wrote.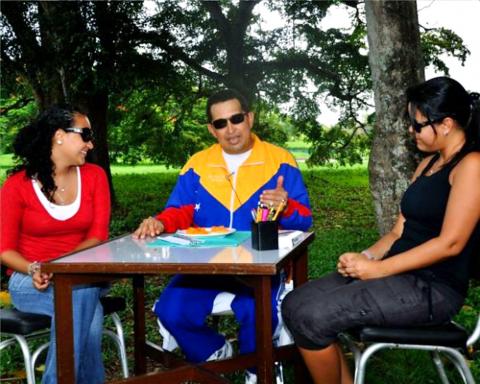 Venezuelan President Hugo Chavez, center, talks with his daughters Maria Gabriela, right, and Rosa Virginia in Havana on Sunday.
Photo: Reuters
"Without hesitation I affirm that the results are impressive, and I did not hesitate to affirm that the patient has undertaken a decisive battle that will lead him, and with him Venezuela, to a great victory," Castro wrote.
Chavez arrived in Cuba on June 8 for what was ostensibly a -previously scheduled visit. He has said he underwent initial surgery on June 11 to have a pelvic abscess removed, and doctors determined a subsequent operation was needed to remove a cancerous "abscessed tumor" from his pelvic region.
After 18 days out of the public eye, the Venezuelan leader announced on Thursday that he had a second surgery to remove the tumor. Neither he nor officials have provided any details about what kind of cancer he had, or a timetable for his return to Caracas.
Castro's essay was posted on state-run Web portal Cubadebate and accompanied by photographs of him meeting with Chavez that it said were taken earlier in the day.
Venezuelan officials have said Chavez continues to be closely involved with government decisions, despite opposition calls for him to step down.
It was Castro's first public comment on Chavez's health, and his first published essay since May 26.
In Caracas, thousands of Venezuelans marched on Sunday to mark the country's bicentennial, but the demonstration quickly turned into a show of support for Chavez.
The president's red-clad supporters waved flags, beat drums and chanted "Long live Chavez."
A message on Chavez's Twitter account said he was doing his "daily exercises and receiving that bath of love" from the demonstrators in Caracas.
Venezuelan state television showed new video footage on Sunday of Chavez chatting with the Venezuelan Foreign Minister Nicolas Maduro and taking a stroll with two of his daughters, Rosa and Maria.
State television said the video was recorded on Friday.
More video appeared on state television on Sunday night. The footage, which was identified as being filmed on Saturday, showed Chavez sitting at a table in a grassy field with his two daughters, holding court on subjects ranging from the classic German philosophical text Thus Spoke Zarathustra which he held in front of him, to the hospitality of his host, Castro.
"We feel a dawn in Latin America from Havana to Buenos Aires to the Caribbean. It's the territory of the dawn, of hope, a new world," Chavez said in the clip, which ran for about 20 minutes.
Comments will be moderated. Keep comments relevant to the article. Remarks containing abusive and obscene language, personal attacks of any kind or promotion will be removed and the user banned. Final decision will be at the discretion of the Taipei Times.