Rescuers rush to reach 42 trapped in Chinese mines
A buildup of volatile gas hampered rescue efforts in one Chinese coal mine and water continued to pour into another as emergency crews raced to reach 42 people trapped yesterday for a second day, officials and state media reports said.
The accidents — a cave-in at one mine and a flood at the other — occurred on Saturday in two southern provinces after days of heavy rains.
At the Heshan mine in Guangxi Province, rescuers vented explosive gas released from coal seams and pumped out silt-filled water as they tried to reach 19 miners believed to be 390m underground, the state media reports said. China Central TV interviewed a miner who said he heard a loud explosion before the cave-in, which killed at least three miners.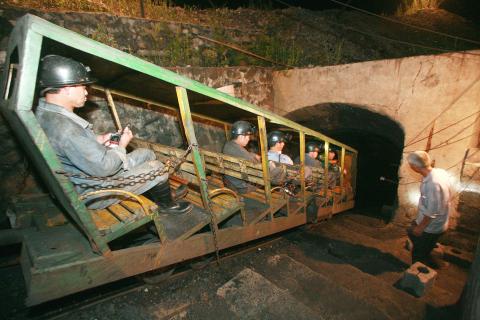 Rescuers make their way into a mine after it collapsed in Heshan in Guangxi Province, China, where rescuers found three bodies at the site of the accident on Saturday. China suffered two mining accidents that left three workers dead and 42 people trapped underground, state media said, the latest incidents to hit the nation's dangerous collieries.
PHOTO: AFP
Despite constant pumping overnight and throughout the day, water levels rose inside the Niupeng mine in Guizhou Province as water poured in from -unidentified locations, Xinhua news agency said.
Besides trapping 21 miners, two more people were believed to have been inside the mine when it flooded and were reported missing yesterday, the reports and a local safety official said.
The China News Service said the two — a relative of the owner and someone accompanying him — had entered the mine without registering. The Niupeng mine, which was under construction and not operating at the time of the accident, is privately run. Such mines tend to have worse safety standards. Heavy demand for coal to fuel China's economy has made Chinese mines among the world's deadliest, despite constant safety campaigns that have managed to reduce fatal accidents.
On Saturday, the State Administration of Work Safety released its latest order for vigilance after accidents at four other mines and at a construction site and a port left 26 people dead in the past two weeks.
Comments will be moderated. Keep comments relevant to the article. Remarks containing abusive and obscene language, personal attacks of any kind or promotion will be removed and the user banned. Final decision will be at the discretion of the Taipei Times.