Philip Morris is set to challenge plain packaging
Global tobacco giant Philip Morris will launch legal action over Australia's plan to introduce plain cigarette packaging, it said yesterday, warning the damages bill could run to billions of dollars.
Under proposed government legislation aimed at reducing smoking rates — due to take effect next year — all logos would be removed from cigarette packaging in Australia, with company brand names printed in a specific font.
Packets would also be a bland olive-green and contain graphic health warnings such as black, diseased gums, blinded eyes and children in hospital.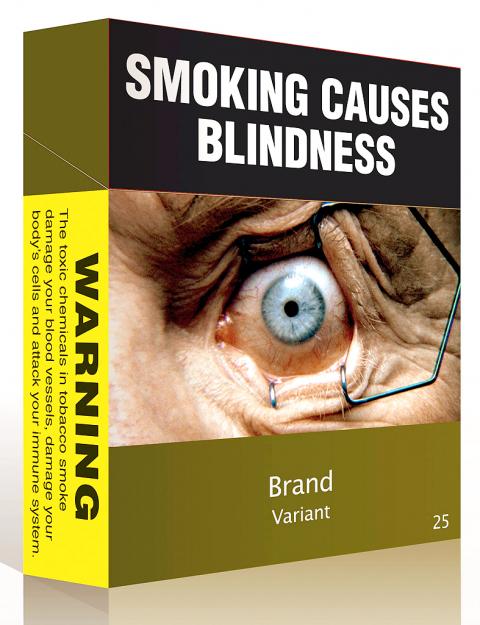 Australia's new compulsory cigarette packet style is shown on April 7.
Photo: AFP
The proposal, which is being closely watched by other countries considering similar policies, has enraged the tobacco giants, who say it would reduce their profits and see counterfeit products flood the market.
Hong Kong-based Philip Morris Asia (PMA), which distributes brands such as Marlboro in Australia, will argue that Canberra is breaching a bilateral investment treaty between the two countries.
"The forced removal of trademarks and other valuable intellectual property is a clear violation of the terms of the bilateral investment treaty between Australia and Hong Kong," PMA spokeswoman Anne Edwards said in a statement. "We believe we have a very strong legal case and will be seeking significant financial compensation for the damage to our business."
The notice of claim, which was served on Monday, starts a three-month negotiation period and if no resolution is reached the matter will proceed to arbitration.
Comments will be moderated. Keep comments relevant to the article. Remarks containing abusive and obscene language, personal attacks of any kind or promotion will be removed and the user banned. Final decision will be at the discretion of the Taipei Times.