Mexican drug cartel leader arrested
DRUGS AND DOCTRINE: La Familia was run with a pseudo-religious philosophy, preaching scripture mixed with self-help slogans to justify the grisly murders of rivals
Mexican police captured the suspected leader of a cult-like drug cartel on Tuesday in the latest blow to a gang that was until recently one of the most notorious in the country.
Federal police arrested La Familia boss Jose de Jesus Mendez, known by his nickname "El Chango," or "The Monkey," at a highway checkpoint in central Mexico and no shots were fired, the government and prosecutors said.
In a rare bloodless capture in Mexico's escalating war on drug cartels, Mexican President Felipe Calderon's national security spokesman said the arrest was a major victory and the end of La Familia, which was infamous for beheading its enemies.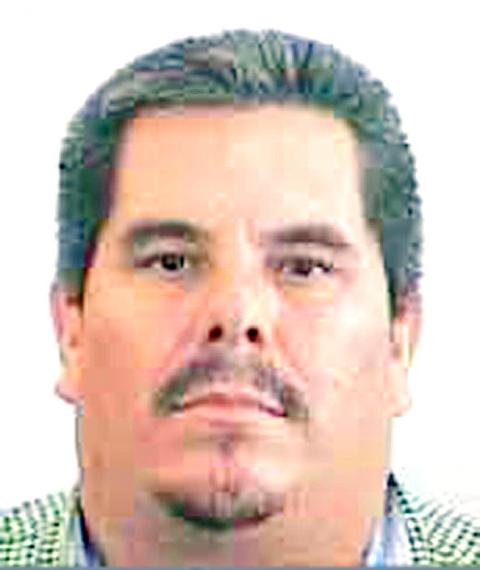 A handout photograph made available on Tuesday shows La Familia cartel leader Jesus "El Chango" Mendez, who was arrested on Tuesday by federal police in Mexico.
Photo: EPA
"With this capture, this criminal group is destroyed," Alejandro Poire told reporters, adding that Mendez was being flown to Mexico City for questioning.
Mendez's detention follows the death in December of La Familia's top boss, Nazario Moreno, known as "The Craziest One," in a dramatic series of army raids that turned the western state of Michoacan briefly into a war zone littered with burning cars.
Despite the government's optimism, La Familia hitmen are still at large and have split into factions since Moreno's death.
One new gang, Los Caballeros Templarios (The Knights Templar), is suspected of killing 23 people over the weekend, leaving bodies across Michoacan with threatening notes for rivals.
"It sure sounds good for the government to say they've got another cartel leader, but there is no end to the killings," a Michoacan resident interviewed by local radio said after the government's announcement.
Calderon, who hails from Michoacan, launched his army-led war on drug cartels in late 2006 on taking office, but now faces growing public alarm at the 40,000 that have died in the conflict across the country since then.
With a bounty of US$2 million on his head in Mexico and also wanted in the US, Mendez is believed to have taken over the running of La Familia since Moreno's death, along with another suspected kingpin, Servando "The Prof" Gomez.
Gomez is still at large and is thought to be running methamphetamine operations out of Michoacan, according to Mexican and US anti-drug officials. Last year, Mexican media reported he was receiving a salary on the state payroll as a teacher at a local elementary school in Michoacan.
Formed in the 1980s, La Familia has vowed to stop sales of the methamphetamine drug "ice" in Michoacan, saying it is destroying local communities. Instead, it exports all methamphetamine production to the US.
Unlike other Mexican cartels, La Familia under Moreno was run with a pseudo-religious philosophy, preaching Bible scripture mixed with self-help slogans to prevent gang members from abusing drugs and to justify the grisly murders of rivals.
Comments will be moderated. Keep comments relevant to the article. Remarks containing abusive and obscene language, personal attacks of any kind or promotion will be removed and the user banned. Final decision will be at the discretion of the Taipei Times.