Family pleads for man's life with Indonesia
The family of an Australian drug smuggler facing execution in Bali pleaded yesterday with Indonesian President Susilo Bambang Yudhoyono to spare his life.
Australian Prime Minister Julia Gillard has already vowed to appeal for clemency for Andrew Chan, one of the so-called "Bali Nine" gang arrested in 2005 for attempting to smuggle heroin to Australia from the island.
His brother, Michael Chan, made his own emotional appeal yesterday, saying his younger sibling had grown up during his years in jail.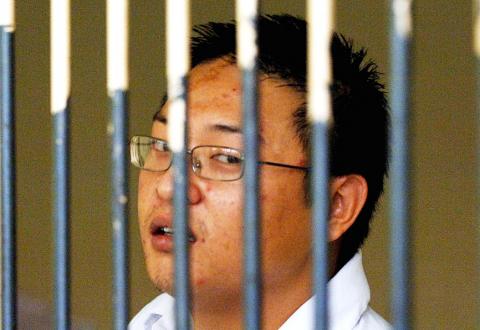 Andrew Chan waits in a holding cell in Denpasar, Indonesia, on Feb. 14, 2006.
PHOTO: EPA
"When he made his mistake he was a kid, he's grown into an adult in the last couple of years," Michael Chan told a press conference in Sydney. "Hopefully the president can see that change in him."
He said his Sydney-based parents were devastated to hear on Friday that Andrew, who is 27, had lost his final appeal against his death sentence.
Asked whether he had a message for Yudhoyono, Michael Chan said: "If he's listening, give him [Andrew Chan] a second chance at life."
Michael Chan said he had -spoken to his brother, who is currently studying theology, since the decision and said he was determined to try to be a better person "whether he's got a short time or a long time to go."
On Saturday, Gillard said Australia strongly opposed the death penalty and would try and have Andrew Chan's sentence commuted.
"I'll be happy to do whatever is necessary to put as much force as we can into the appeal for clemency for Andrew Chan, including personally involving myself," she said.
Chan was one of nine Australians convicted over their attempt to smuggle 8kg of heroin into Australia from Bali in 2005.
Comments will be moderated. Keep comments relevant to the article. Remarks containing abusive and obscene language, personal attacks of any kind or promotion will be removed and the user banned. Final decision will be at the discretion of the Taipei Times.