ASEAN seeks to resolve border feud
ELEPHANT IN THE ROOM: Thai Prime Minister Abhisit Vejjajiva said that such conflict between member states was likely to undermine ASEAN's 'community-building efforts'
Southeast Asian leaders met yesterday for the final day of an annual summit that has been hijacked by a bitter feud between Thailand and Cambodia over a tiny patch of disputed borderland.
ASEAN leaders expressed frustration that the dispute had not been resolved and the 10 nation group's strategic message of regional economic integration was being lost.
In an effort to bring the warring neighbors together, Indonesian President Susilo Bambang Yudhoyono hosted an unscheduled meeting with the Thai and Cambodian leaders yesterday morning.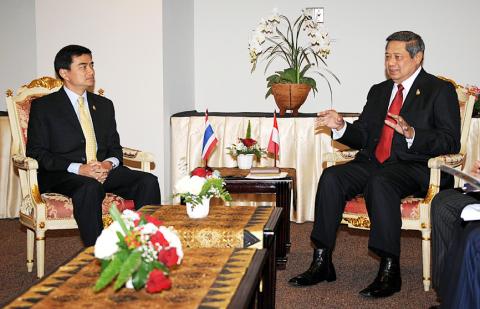 Indonesian President Susilo Bambang Yudhoyono, right, yesterday meets Thai Prime Minister -Abhisit Vejjajiva, left, during a bilateral meeting on the sidelines of the 18th ASEAN -Summit in Jakarta, Indonesia.
Photo: AFP
Cambodian Prime Minister Hun Sen sat down with Thai Prime Minister Abhisit Vejjajiva a day after the former had set the tone of the summit by launching a surprise verbal attack on Abhisit during the opening session.
Hun Sen said after yesterday's meeting that the row was "spoiling" the summit, which was -supposed to focus on long-term plans to create a harmonized economic community by 2015.
"Everyone knows that the problem of the Thai-Cambodia border has been spoiling the atmosphere and also creates a challenge for ASEAN," he told a press conference.
In a highly critical tone not usually heard at ASEAN meetings, the Cambodian leader on Saturday accused Thailand of invading its neighbor and seeking to prolong the conflict "in order to violate weaker neighboring ASEAN members."
"The invasion of the Thai troops of Cambodia's territory resulted in a series of clashes and eventually a large-scale war from Feb. 4 to Feb. 7, 2011," Hun Sen told the assembled leaders.
Eighteen people have been killed and 85,000 temporarily displaced in weeks of clashes over ownership of a small patch of territory surrounding an 11th-century Khmer temple. The temple itself belongs to Cambodia.
Indonesia has been trying to mediate a solution to the conflict on behalf of ASEAN, but so far it has achieved little except an in--principle agreement from both sides to accept a small team of military observers visiting the border area.
Abhisit responded to Hun Sen's criticism by saying he was ready for dialogue and insisting the matter be resolved bilaterally, instead of under UN auspices as Cambodia wants.
"Thailand has no intention whatsoever to have conflicts. I am therefore disappointed that Prime Minister Hun Sen has stated otherwise regarding Thailand's intentions," he told the leaders.
He agreed that the dispute, which was not on the formal agenda of the summit, threatened to undermine the credibility of the bloc's rhetoric about regional integration and playing a greater role in world affairs.
"I accept that the issue could affect the credibility of ASEAN. We must therefore make sure that any problem should be solved, locally, bilaterally and if needed with the facilitation of the region," Abhisit said. "Thailand recognizes full well that any conflict between ASEAN member states can undermine ASEAN's community-building efforts."
Officials said the two leaders had agreed to have their foreign ministers meet again in Jakarta to discuss the conflict further.
Putting a brave face on the episode, ASEAN Secretary-General Surin Pitsuwan said: "The fact that they are meeting is a good sign."
However, other ASEAN leaders were not so sanguine.
Philippine President Benigno Aquino, speaking to reporters late on Saturday, said ASEAN unity was at stake and expressed concern that the conflict could worsen.
"How can we have one ASEAN, one family, if we have two major components who cannot solve their problems?" he asked.
"It is important that ASEAN is united so that when we talk with other groups we tell them you talk to us as one whole unit. If we are disunited they can easily push us around ... so it is in the interest of ASEAN that Thailand and -Cambodia should resolve the issue," he added.
Aquino said he had asked Hun Sen whether there was anything the Philippines could do to help, but the Cambodian leader "just smiled" in response.
In addition to strategic integration, other issues on the table at the summit include food and energy security, territorial disputes in the South China Sea, the scourge of human trafficking and East Timor's membership bid.
Myanmar stole the headlines on Friday when ASEAN officials announced that the military-led country — which is under Western sanctions for serial human rights abuses — had asked to chair the group in 2014.
US-based Human Rights Watch said ASEAN, already struggling for credibility, would become the "laughing stock of intergovernmental forums" if it granted the request.
Comments will be moderated. Keep comments relevant to the article. Remarks containing abusive and obscene language, personal attacks of any kind or promotion will be removed and the user banned. Final decision will be at the discretion of the Taipei Times.