Pentagon's Robert Gates in Iraq's Kurdistan region
US Secretary of Defense Robert Gates arrived in Iraq's autonomous Kurdistan region yesterday for talks with regional president Massud Barzani on security needs after US troops pull out this year.
Gates arrived in the Kurdish capital of Arbil for the meeting with Barzani, whose party is a key component of Iraq's unity government, made up of bickering Shiites, Sunnis and Kurds.
On Thursday, he met in Baghdad with Shiite Iraqi Prime Minister Nuri al-Maliki and Iraqi President Jalal Talabani, who is a Kurd.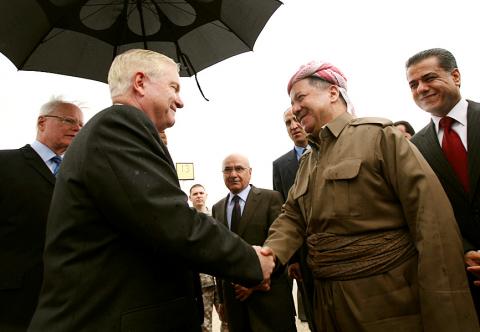 US Secretary of Defense Robert Gates, left, shakes hands with the president of the northern Iraqi autonomous Kurdistan region, Massud Barzani, yesterday in Arbil.
Photo: AFP
The Pentagon chief urged them to finish forming a government, while assessing Iraq's post-withdrawal security needs, according to a senior defense official traveling with Gates.
More than a year after an inconclusive general election, Iraq still has no defense, interior or national security ministers, even though Maliki stitched together a deal to form a national unity government in December.
"The secretary's fundamental message was: You all need to figure out what you need of us and what's politically feasible and we're ready to work with you on how to address those needs," Gates' spokesman Geoff Morrell said.
"The discussion here is about how to fill particular needs in their security architecture and that would require far fewer forces than are currently here now. His message was that time is [of] the essence," Morrell added.
A 2008 agreement setting the timetable for withdrawal can be renegotiated by either side, but the US say it is up to Baghdad to ask if they want some US forces to remain beyond this year.
The Iraqi armed forces chief of staff General Babak Zebari has said his forces would not be able to ensure full security before 2020.
However, Maliki's office quoted the prime minister as saying in talks with Gates that "our armed forces, police and army are now capable of deterring any aggression and its capabilities to impose security and stability are growing day by day."
Gates told a US House of Representatives committee in February that Baghdad would face sizable "problems" after the withdrawal.
He said Iraqis would be unable to protect their own airspace, would face intelligence challenges and "have problems with logistics and maintenance."
At the Camp Liberty US base west of Baghdad on Thursday, Gates met some of the nearly 50,000 US troops still in Iraq.
That number is down from a peak of more than 170,000 after the US-led 2003 invasion to topple former Iraqi president Saddam Hussein and ahead of the planned full withdrawal later this year.
Comments will be moderated. Keep comments relevant to the article. Remarks containing abusive and obscene language, personal attacks of any kind or promotion will be removed and the user banned. Final decision will be at the discretion of the Taipei Times.