N Korea parliament praises own progress on economy
North Korea's parliament praised progress in building the economy and approved a handful of government appointments, but state media made no mention of a major promotion for the son of North Korean leader Kim Jong-il.
Delegates to the Supreme People's Assembly convened a spring session in Pyongyang on Thursday amid speculation that heir apparent Kim Jong-un would be elected to the powerful National Defense Commission — a move that would further solidify the young man's standing as North Korea's next leader.
However, there was no mention of the son in dispatches from the official Korean Central News Agency (KCNA) or footage of the parliamentary session in an evening newscast on state TV.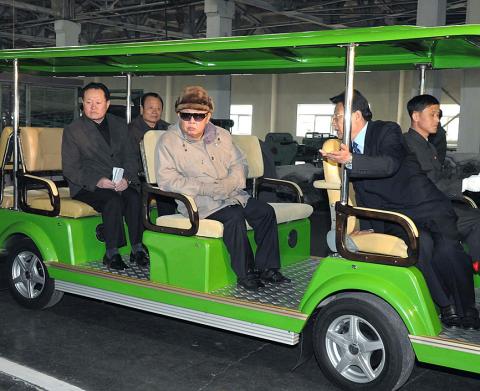 North Korean leader Kim Jong-il visits the Amnokgang Tire Factory in this undated picture released by North Korea's KCNA news agency in Pyongyang on Thursday. KCNA did not state the date the picture was taken.
Photo: Reuters
North Korea's parliament typically meets once or twice a year to rubber stamp bills vetted by the ruling Workers' Party and outsiders scrutinize the sessions for clues to changes to the tightly controlled country's economic policies and power structure.
Thursday's session was North Korea's first major national meeting since Kim Jong-un made his political debut in September last year by taking on a key leadership post in the Workers' Party. Since then, he has appeared regularly at Kim Jong-il's side, his father's clear choice among three sons as heir apparent.
Analysts say election to the National Defense Commission, which formulates key state and military policies, would be the next step in the path to formally naming him as successor. The commission's No. 2 post, first vice chairman, has been vacant since November.
Kim Jong-il himself was elected by parliament 18 years ago to be chairman of the commission — a position that makes him the nation's leader under North Korea's Constitution.
However, some analysts said it was unlikely the young, inexperienced Kim Jong-un, believed to have turned 28 in January, would be appointed to such a high-profile post while his father remains in control.
"Like Libya's [Muammar] Qaddafi and Cuba's [Fidel] Castro, he won't hand over all key power [to his son] until his death," said Jeung Young-tae, an analyst with the government-funded Korea Institute for National Unification in Seoul.
He said Kim Jong-il might be gaining confidence that his health will hold up. Kim Jong-il, 69, appears to have recovered from a stroke he reportedly suffered in 2008. Jeung said he might also worry about the backlash if the son gains power too quickly.
Since his debut, Kim Jong-un has steadily risen in prominence in state media, with his name appearing second only to his father's in a report on Thursday about a visit to factories in the city of Kanggye.
Appointments approved on Thursday at Mansudae Assembly Hall included the naming of a new security chief, Ri Myong-su, a four-star general who is a department director at the National Defense Commission. Ri replaced Ju Sang-song, who was dismissed last month.
Delegates also heard reports about the development of North Korea's light industry sector. The country has made it a key goal to build up the economy by next year, the 100th anniversary of the birth of national founder Kim Il-sung.
North Korean Premier Choe Yong-rim said the North has built a new steel factory, increased coal industrial capacity and built hydropower stations, according to KCNA. Choe said the North would push for more progress in light industry, grain production, coal production and other fields, the report said.
Comments will be moderated. Keep comments relevant to the article. Remarks containing abusive and obscene language, personal attacks of any kind or promotion will be removed and the user banned. Final decision will be at the discretion of the Taipei Times.