FEATURE: Sudanese rail system runs off-track
MODERNITY TO RUIN: The decline of the massive rail system reflects the stagnation of the Sudanese economy, with a 900km journey taking from three days to one month
The freight train rumbles over the Blue Nile bridge and snakes through the capital. It could take weeks to reach its destination, in Darfur, for despite the potential to link up a divided nation, Sudan's railways are derelict, after years of sanctions and neglect.
With more than 5,000km of track, Sudan has one of the longest railways in Africa, extending from Port Sudan on the Red Sea to Nyala in the war-torn west, and from Wadi Halfa on the Egyptian border to Wau in the far south.
However, it now carries less than 6 percent of Sudanese traffic, and the last passenger train to depart from north Khartoum station left six months ago, according to a policeman guarding the empty building.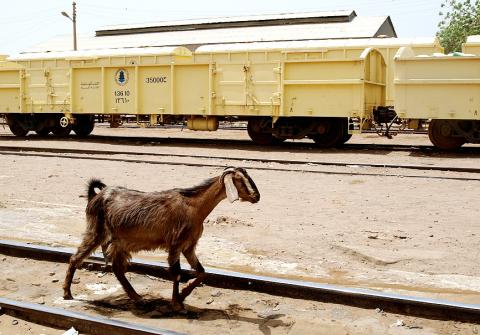 A goat crosses a rail track near Khartoum's northern rail station on March 27.
Photo: AFP
Prior to that they ran twice a week, he said, leaving early in the morning and arriving at the northern border town the following evening, covering a distance of around 900km.
"There are passenger trains still running, but they are very rare," said Mohammed Ahmed Makkawi, the general manager of Sudan Railways Corp (SRC).
Sudan's railways prospered in the 1960s and 1970s, driven by a thriving agricultural sector and foreign investment, and their decline mirrors the wider stagnation of the Sudanese economy.
Like other officials in the sector, Makkawi blames the poor state of Sudan's narrow-gauge train system on US economic sanctions, first imposed in 1997 and renewed as recently as November last year.
"Most of our locomotives are from America, but most of them are out of service because of sanctions. We can't get spare parts," he said. "We are trying to get financing for another track, to make it a standard gauge, so that it can carry a lot of equipment and goods and passengers, and be much more reliable."
Khartoum has managed to buy new locomotives from China in recent years. However, plans to build a new line from Port Sudan to Khartoum, the busiest route, would cost an estimated US$1 billion, money that the destitute Sudanese government simply does not have.
Most of the tracks are ancient — 73 percent of the railway lines were constructed before 1930 — with the 50km branch line connecting Muglad to the Abu Jabra oil field being one of just a few to be built in the last half century.
Ironically, it was conflict that initially prompted the development of Sudan's railway. The first section of the present-day network was built by the British in the late 19th century to support their military operations against Sudanese leader Muhammad -Ahmad al-Mahdi, who had defeated the colonial forces about 10 years earlier. It was later expanded, and used profitably to export animals, sugar and cotton primarily from Gezira state, Sudan's agricultural heartland south of Khartoum, between the Blue and White Nile.
However, despite a string of belated reforms in 2005, the Gezira farming scheme has experienced gradual stagnation, and the railway system declined partly as a result.
Ahmad Sikainga, professor of African social and economic history at Ohio State University, points to another key factor in its demise, namely the determination of successive governments to suppress the rail workers union, which formed the core of Sudan's once-powerful labor movement.
Rail workers now receive paltry salaries, the SRC suffers from chronic administrative problems, the trains and tracks require extensive maintenance and passengers report frequent stoppages.
Abdel Fadeel al-Nur had a particularly bad experience last year.
The 28-year-old engineer got a job with the rural development fund in Nyala, South Darfur, and had to get five tractors there from Khartoum, so he decided to put them on the train, having done the 900km journey some years earlier in just three days.
"I left Khartoum on May 13 and arrived in Nyala on June 13," Nur said.
"We stopped for one day in Sennar, because of technical problems, and then again in Kosti for three days. Then we stopped for 12 days in Rahad, for more technical repairs to the train. We were also delayed because of fighting in Darfur," he said. "I don't think I will ever travel again by train."
Comments will be moderated. Keep comments relevant to the article. Remarks containing abusive and obscene language, personal attacks of any kind or promotion will be removed and the user banned. Final decision will be at the discretion of the Taipei Times.