Number of asylum seekers in rich nations falls
ROOT CAUSES: The UN refugee agency said further study was needed to determine whether the decline was prompted by tighter migration control in asylum countries
The numbers of asylum seekers trying to enter wealthy countries dropped last year, especially in southern Europe where the flow mainly from Africa or Asia fell by a third, the UN refugee agency said yesterday.
Fresh data showed that 358,800 people applied for asylum in 44 industrialized countries last year, about 5 percent less than in 2008 or in 2009 and more than 40 percent less than a decade ago.
It was the fourth-lowest total recorded over the past decade.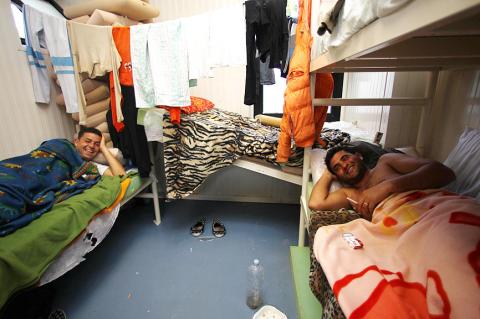 Refugees relax in one of the rooms at the reception center crowded by immigrants from North Africa on the island of Lampedusa in southern Italy on Saturday.
Photo: EPA
"The global dynamics of asylum are changing," UN High Commissioner for Refugees (UNHCR) Antonio Guterres said.
Just a "handful" of industrialized nations had experienced an increase, he said.
"We need to study the root causes to see if the decline is because of fewer push factors in the areas of origin, or tighter migration control in countries of asylum," he added in a statement.
More than two-thirds of the asylum seekers headed for the EU, but the data revealed shifting patterns in both the destinations and the countries of origin.
The biggest decrease was recorded around Europe's Mediterranean coastline in Albania, Cyprus, Greece, Italy, Malta, Portugal, Spain and Turkey, the UNHCR said.
The numbers registered there fell 33 percent last year and were less than half the peak of 74,400 asylum claims recorded three years ago — despite an 18 percent rise in Turkey.
Registrations fell 94 percent in Malta, 53 percent in Italy and 36 percent in Greece. All three countries have sought to clamp down on a large influx of migrants mainly by boat from Africa or the Middle East in recent years.
However, they increased substantially in Germany (49 percent), Sweden (32 percent), Denmark (30 percent), and Australia and New Zealand combined (31 percent).
About 8,600 people sought asylum in the latter two countries, overwhelmingly in Australia (up 33 percent).
Nonetheless, that was still down more than a third from 2001, and well below other industrialized countries: Australia placed at 15 on the list of asylum receiving industrialized countries last year, the report said.
The US remained the largest single destination for new asylum seekers, with an estimated 55,500, last year, increasing by 6,500. One-third of them were from China, while Mexicans were the next biggest group.
France was the second-most favored asylum destination with 47,800 applicants, a 13 percent increase mainly from Georgia, Bangladesh and Haiti; followed by Germany with 41,300, mainly from the Balkans.
Completing the top five were Germany, Sweden and Canada: Together, these five countries accounted for more than half, or 56 percent, of all asylum applications, the report said.
The UNHCR data showed that Serbians, especially from Kosovo, represent the largest single group of applicants with 28,900 overall, followed by a declining number of Afghans and more Chinese asylum seekers.
The number of Iraqis — some of whom have faced deportation from northern Europe over the past year — and Somalis has dropped.
European governments, especially Italy and France, have braced for a surge in immigration this year because of the unrest in North Africa, especially from Tunisia and Libya.
Guterres said that developing countries still carried "the lion's share of responsibility for hosting refugees.
"Despite their many other challenges, countries like Liberia, Tunisia and Egypt have kept their borders open to people in need. I call upon all countries to support them," Guterres said.
Comments will be moderated. Keep comments relevant to the article. Remarks containing abusive and obscene language, personal attacks of any kind or promotion will be removed and the user banned. Final decision will be at the discretion of the Taipei Times.