New 'missing link' dinosaur discovered
Fossils of a recently discovered dinosaur species in Argentina are a "missing link" in the evolution of the long-necked giants that roamed the earth millions of years ago, paleontologists said.
Long-neck, long-tail plant-eaters like Diplodocus, Brachiosaurus and Brontomerus — the largest land creatures ever to walk on earth — are dinosaurs known as sauropods. They lived about 170 million years ago.
Paleontologists see the recently discovered Leonerasaurus taquetransis as the connection between the smaller prosauropods — also known as near-sauropods — like Sellosaurus and Plateosaurus from the Triassic period (248 million to 205 million years ago) to their much larger descendants, the sauropods.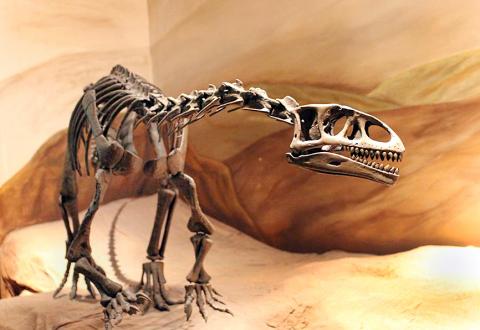 A handout picture released on Wednesday by the Museo Paleontologico Trelew shows a replica of the fossil of a Leonerasaurus taquetransis in Neuquen, Argentina.
Photo: AFP
Leonerasaurus lived about 10 million years before the sauropods and measured a mere 3m long, said Diego Pol with the Egidio Feruglio Museum of Paleontology.
"The importance of this find is that it is a new species. It gives us information on the origin of the sauropods," Pol said.
Leonerasaurus is "a very primitive species ... that helps us understand the evolutionary tree of the giants that appeared later," Pol said.
Comments will be moderated. Keep comments relevant to the article. Remarks containing abusive and obscene language, personal attacks of any kind or promotion will be removed and the user banned. Final decision will be at the discretion of the Taipei Times.